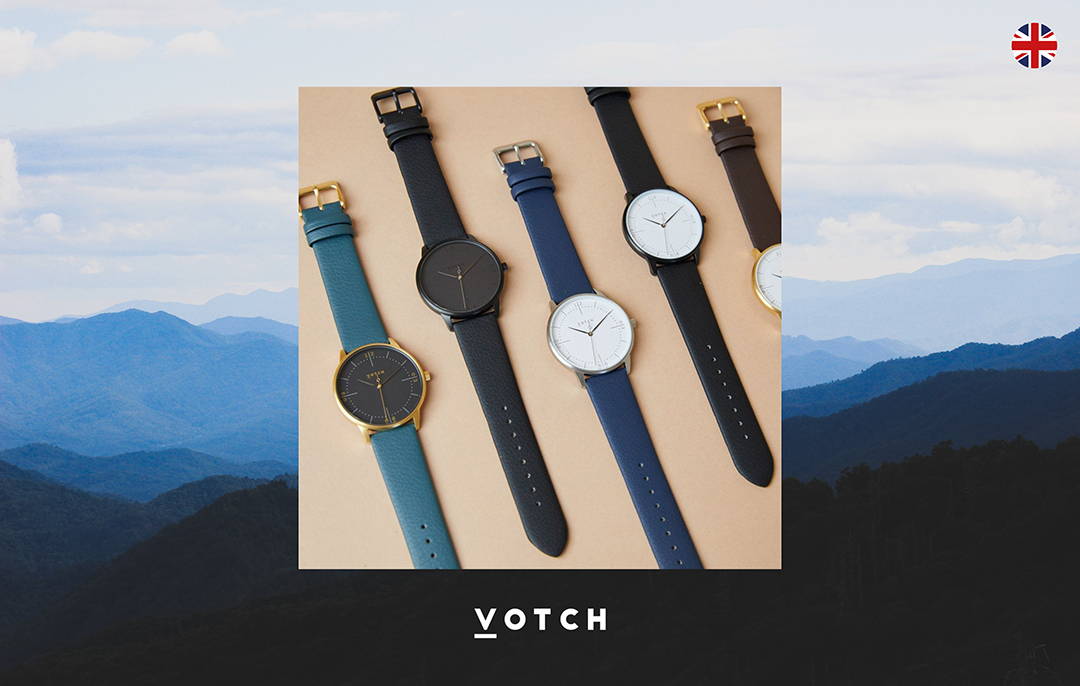 Plain Tiger Spotlight: Votch
You Don't Have to Be Cruel to be Cool

Life happened.

That's the simplest way to describe what happened to Laura Way, who contracted a skin condition called Topical Steroid Withdrawal. It took years to recover fully. And as difficult as those years proved, they offered Laura the priceless gift of time – time to discover, rethink and experiment. Laura chose to spend that gift of time on learning, with a specific focus on issues relating to animal welfare, including the shortcomings of the leather industry.

Votch began with a vow taken by Laura to never wear the skin of another being again. And that vow opened to doors of opportunity for a brand that is cruelty-free and conscious, in every way.

Votch is a watch company that produces wrist accessories from cutting-edge vegan materials such as Piñatex (pineapple "leather") and AppleSkin (apple "leather"). What's not to love about an accessory you can treasure and pass on, without making a negative impact on the environment, animals and the artisans involved?

The Votch collection is minimalist, elegant and non-assuming. In a word, it's simply, 'refreshing'. Watch faces in cases with rose gold and other metallic finishes are attached to refined, vegan-friendly straps that are interchangeable, reusable and recyclable. These timepieces are part of a developing circular economy – an economy that is at the centre of a new and exciting dispensation where we can enjoy fashion without the long-term ramifications on people and the planet.

As Laura expands: "We find ethical and eco businesses incredibly exciting. Never before have so many great entrepreneurs been creating innovative and ingenious ways of rethinking solutions that were normally answered with unsustainable or environmentally damaging methods. The need for clear, credible climate action from all organisations is essential. This is our way of supporting climate solutions and limiting our impact on the planet."
Votch straps are created using Piñatex and AppleSkin and the team is constantly looking for other sustainable alternatives and additions to the library of colours and textures that you'll find in the Votch stable. With every Votch product purchased, Votch plants a mangrove in Madagascar, which contributes to a healthier environment, provides a natural habitat for thousands of wildlife, plant and insect species and provides employment opportunities for local villagers. Votch also has a recycling scheme that reuses old Votch straps and ensures that they don't end up in landfill. The brand also shows its commitment to local communities by partnering with a different charity every three months, to which they donate a percentage of profits.

As Laura explains: "our values are simple, and that is to continually do the best we can do. We are always striving as a company to do better and to create a product that inflicts no harm on animals with the smallest footprint for the environment. We are forever researching the most innovative fabrics possible for our watch straps, and this push for progress is matched by our desire to develop our designs and durability. We want to make cruelty-free accessories more readily available to all, and to show the world that you don't need to be cruel to be cool."

Now here's an interesting bit of information. Votch timepieces are made in a factory in Shenzhen, China. The journey to finding the right factory to work with involved stringent criteria around the fair compensation and treatment of workers. And the Votch team found that factory in a country that hasn't enjoyed the most favourable reputation with regards to sustainability.

But things are changing.
Isn't that amazing?
And soon, thanks to brands like Votch, the connotations of something being "made in China" will be positive. The team at the Votch factory are a family of artisans who value quality and continue to evolve their products through research and development. Good things are on the horizon.
So the next time you buy a watch, choose a Votch.