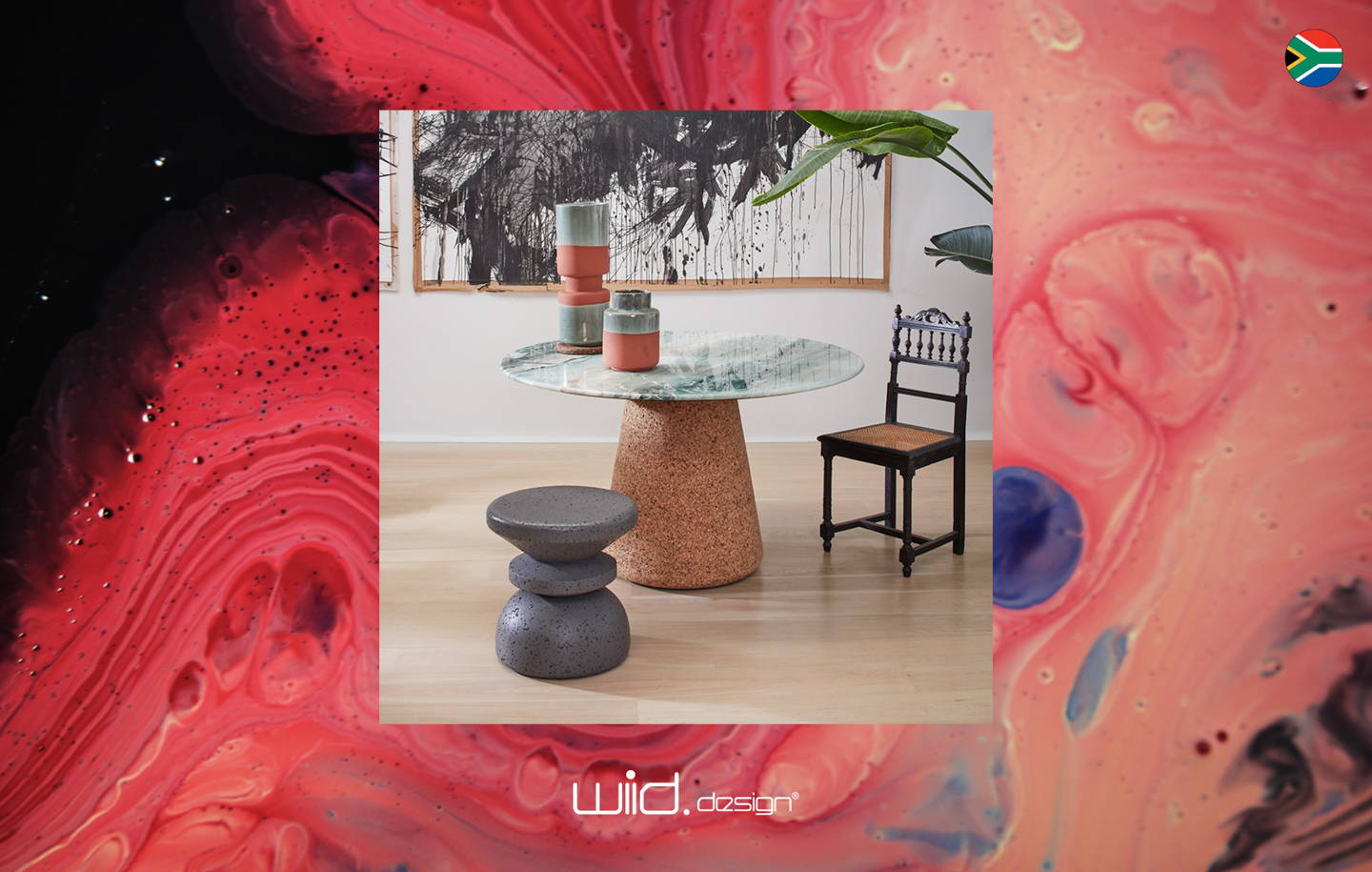 Plain Tiger Spotlight: Wiid
Wiid Design studio was established in 2013 by Laurie Wiid van Heerden. A true creative with experience in many different genres of product design from ceramics, timber, bronze forging and sculpture, working with and inspired by talented experts and mentors.
"Try and surround yourself with people you look up to, people who have good values and are true to themselves and their work. There's no need to follow trends or to be pretentious about who you are or what you want to create. The industry can be intimidating, but everyone had to start somewhere." – Laurie Wiid van Heerden of Wiid Design.
Laurie strikes you as someone who is by nature curious and inquisitive, loves to collaborate with other talented individuals to constantly learn more.

Wiid Design uses a combination of specialist techniques and handcraft to create unique and innovative furniture, lighting, tableware and collectable objects.
I asked what he loves most about his work?
Being a designer, a creator of products and objects, the idea of creating something new, something from nothing is what drives me, and this excitement constantly motivates me to keep on doing what I do. I have always been a collector of objects and natural curiosities and being able to take inspiration from my own collections makes me very happy.
Design is art; it is a way of expression. I express my personality, my thoughts and my inspiration through my work. I also love my studio, my creative space and, of course, my wonderful team.
Laurie has become almost synonymous with cork these days – recognised by his stylish creations crafted from fascinating material which has been used for millennia, but he's taken to new levels.
According to * "History of Cork" courtesy of APCOR in 3000 BC, cork was already being used in fishing tackle in China, Egypt, Babylon and Persia. In Italy remains dating from the 4th century BC have been found that include artefacts such as floats, stoppers for casks, women's footwear and roofing materials. Also dating from that period is one of the first references to the cork oak, by the Greek philosopher Theophrastus who, in his botanical treatises, referred in wonder to "the ability that this tree has to renew its bark after it has been removed".
Wiid Design has taken this humble material to luxurious levels with high-end designs, and is not shy of bold colours combined with the natural texture and colour.
They use 2 types in their pieces. Agglomerated cork (composite cork) or compressed cork, which is a cork grade created when the natural raw cork material is obtained from leftover cork that are not suitable for cork Stoppers or from recycling initiatives. It is ground up, mixed with a binding agent a then compressed to create items. Solid pieces are produced from façade grade cork, whereby only the bark from a cork oak tree's first harvest (called virgin cork bark) is used.
Do you have a favourite piece?
This is a difficult question as I love all our pieces, even our smaller products such as our glassware, ceramics, cork trays and placements. All our products are designed with a story in mind and by making use of special techniques with a hand-made aesthetic. The collectable one-off pieces are always fun to create as there are certainly more freedom when designing and manufacturing limited edition / collectible pieces.
However, the challenge of designing a unique, sustainable, and affordable product always interests and motivates me as a designer. One of my favourite collections is that of our terrazzo and cork furniture collection, which consists of an outdoor dining table, coffee table and chair. This collection is a perfect example of what can be achieved by utilising an unconventional material such as outdoor natural dark cork in combination with terrazzo or stone.
Therefore creating unique furniture pieces that are not only practical but also sustainable and suitable for outdoor use.
Wiid Design have shone a light on this largely understated material showcasing its beauty, versatility, and sustainable characteristics. Other properties of cork include that it is biodegradable, recyclable, and regenerates. It's also lightweight, impervious to liquid and gas, compressible, resilient, offers acoustic and thermal insulation, as well as being fire retardant, non-abrasive, buoyant, and virtually indestructible!
Was there a lightbulb moment when you decided that cork was a fabulous material?
Yes, there was indeed a "lightbulb" moment.
My career truly started to blossom when I discovered the possibilities of cork, a unique, natural and sustainable material, a material I could transform and make my own.
Cork is certainly one of the most sustainable materials in the world with a large variety of applications and available grades. Cork is biodegradable, renewable, recyclable, reusable, lightweight, waterproof, elastic, compressible and resistant to wear and tear, therefore this unique material is very versatile.
When I first started experimenting with cork back in 2010, I immediately realised it's wonderful properties and manufacturing capabilities. It quickly became evident that I wanted to focus on cork and make it one of our core materials.
I first came across cork used within product design many years ago in Paris, it was a small design shop where thin moulded composite cork was used around a porcelain cup. This intrigued me and I became curious and wanted to find out how this thin sliver of cork was manufactured.
It took many years of experimenting and numerous trips to Portugal to learn how the material works and to understand the various grades and the properties of the material. Once I have understood the material and its capabilities, it became an important motivational factor to push the limits and add value to this material on an international level. By doing so we had to create awareness and push the boundaries to achieve a number of world "firsts" – including the world's largest cork pendant light and cork cabinet. Therefore, we started placing emphasis on developing special techniques to manufacture the products that my studio sells today.
But wait- there's more!
Wiid Design's collaboration with Ngwenya, Swaziland based glass company. They have come together to create beautiful glassware- hand-blown from recycled glass – the result is beautifully shaped vessels in clear and amber with cork closures.
Seeing as Laurie's always one looking out for the next collaboration or creation, I asked him what was next on the horizon? As a product design studio, we are constantly working on private and commercial projects, this takes up a lot of our time and it's sometimes difficult to squeeze in design-time for our own collections.
We, therefore, do not only sell our own collections but also provide a design service to architects, interior designers and private clients.
Our existing product offering includes over 180 products, but a large portion of our business involves custom designs for commercial and residential projects, its part of our day-to-day operations and services.
Future projects include exclusive and custom designed pieces for all local and international Nando's stores. This specific project is still in the development stage and is a good example of a more commercial project our brand is working on.
We are also focusing on developing smaller products within our collection that are more suitable for the general consumer market. Some of these new pieces will be photographed in November 2021.
New future collections we are focusing on include desk lights, planters, kitchenware, tableware and smaller furniture items, including wall and ceiling panels.
Another focus point for 2022 will be to develop products for our international distributors, where we will focused on feedback from past interest and current gaps in the market.