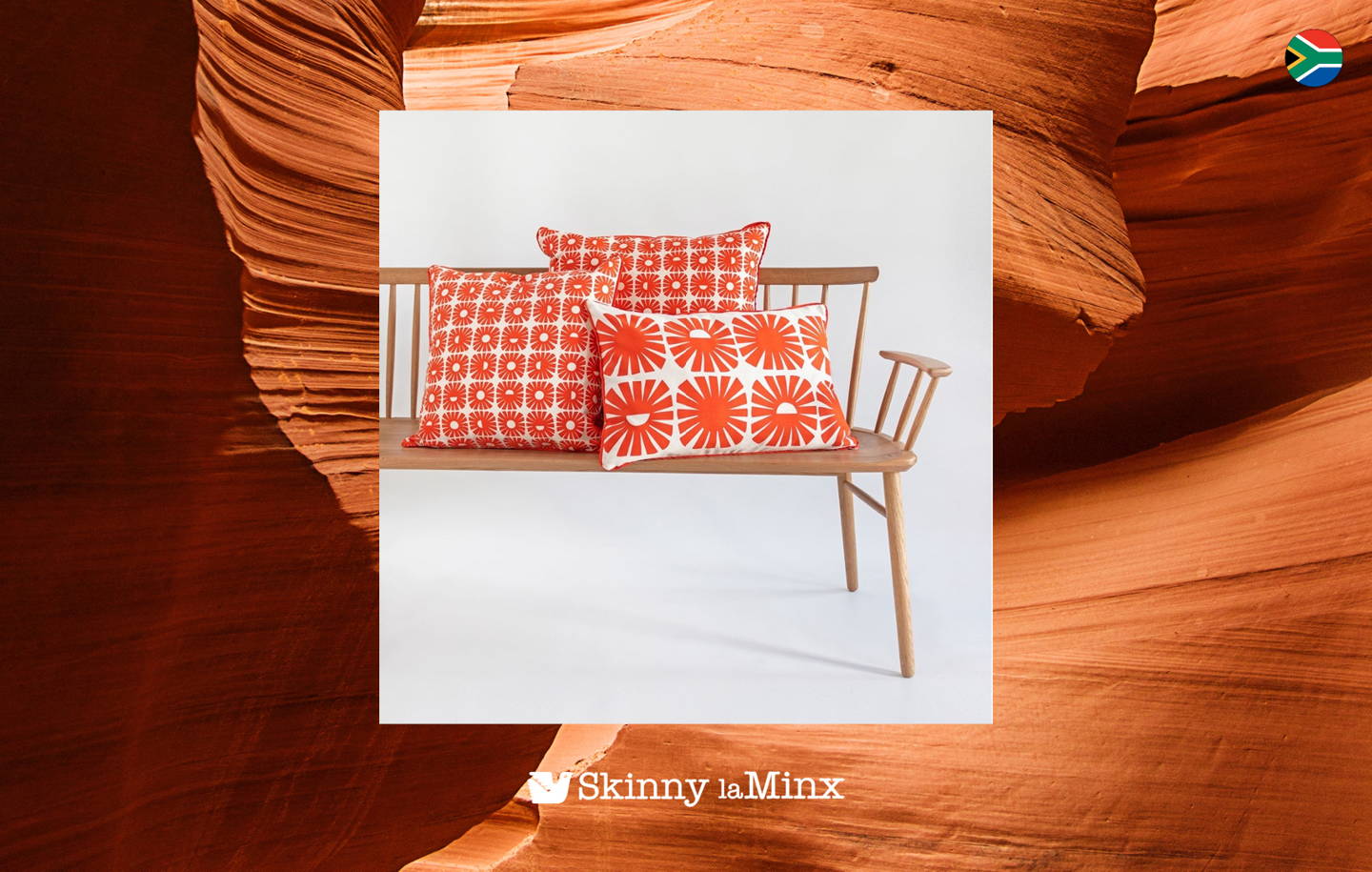 Plain Tiger Spotlight: Skinny laMinx
All things bright and beautiful.
Skinny laMinx was established in 2008 by Heather Moore, who decided to turn her hobby into a proudly South African business. Supported by a passionate and talented team with a shared love of bold colour and pattern, mid-century style and a touch of African chic influence – they've created unique homeware pieces and accessories designed to brighten up your day.
We asked founder Heather Moore a little more about the business and what the inspiration behind the name "Skinny La Minx" was?
"It's a well-known fact that any business named after a beloved pet is set up for immediate success :-) So, of course, that's why I named Skinny laMinx after our skinny little Siamese cat."
We were curious as to how many people made up the Skinny laMinx team.
"There are 10 of us, including me. I'm the creative director, our financial director Pearl lives in New York, Fouwaaz is our general manager, Isabella works in the shop, and Nobuzwe manages workflow with our seamstress team of Nadieya, Marcia, Moena, Bridget and Malam. We work with our print partners at Imaterial in Cape Town and with a number of other production facilities on various aspects of our products."
It is always interesting to know what a person loves most about their work. Heather says she absolutely loves making patterns and loves seeing how they are transformed when they're turned into fabric. The interaction of pattern, material, colour and scale will never stop fascinating her.
It's a tricky question to ask a creator which of their products is their favourite and why, and Heather agrees, "I can't really have favourites, but I do love the way that everything in our Sunshine range lifts the spirits. Those sunshines really radiate good vibes!"
She believes their top seller must be the Flower Fields design. It began as a papercut design in 2011, and it was a hit from the moment they started printing it on fabric. Heather thinks it hits the spot for all kinds of tastes, from traditional to more modern styles. And their recent update in Brazil green and Shell pink has really made it zing!
Plain Tiger offers a selection of these beautiful and unique pieces. From the handy Stash Bag, the perfect size to hold your essentials, which is fully lined with a pop of pure Skinny laMinx colour and makes for a fabulous gift, to the gorgeous range of bright pillows.
Like many of the designs, the Bowls and Pebbles designsstarted out as a paper cut-out design and resulted in these punchy prints; and the hand-drawn effect of Simple Stripe design lends a casual look to the fabric. The Pop pillow is no wallflower and does exactly as its name proclaims - adds a bold pop of colour to your space.
They also offer a range of dining and kitchen items - table runners, napkins and tea towels in an assortment of fun and playfully wonky designs, all screen-printed with water-based inks on natural fibre fabrics of the highest quality so that they last.
The added beauty of the Skinny laMinx products is that they can be mixed and matched and used to create exciting and fun colour and pattern combinations.
Every piece is designed and made in Cape Town, South Africa. Shop to your heart's content here!