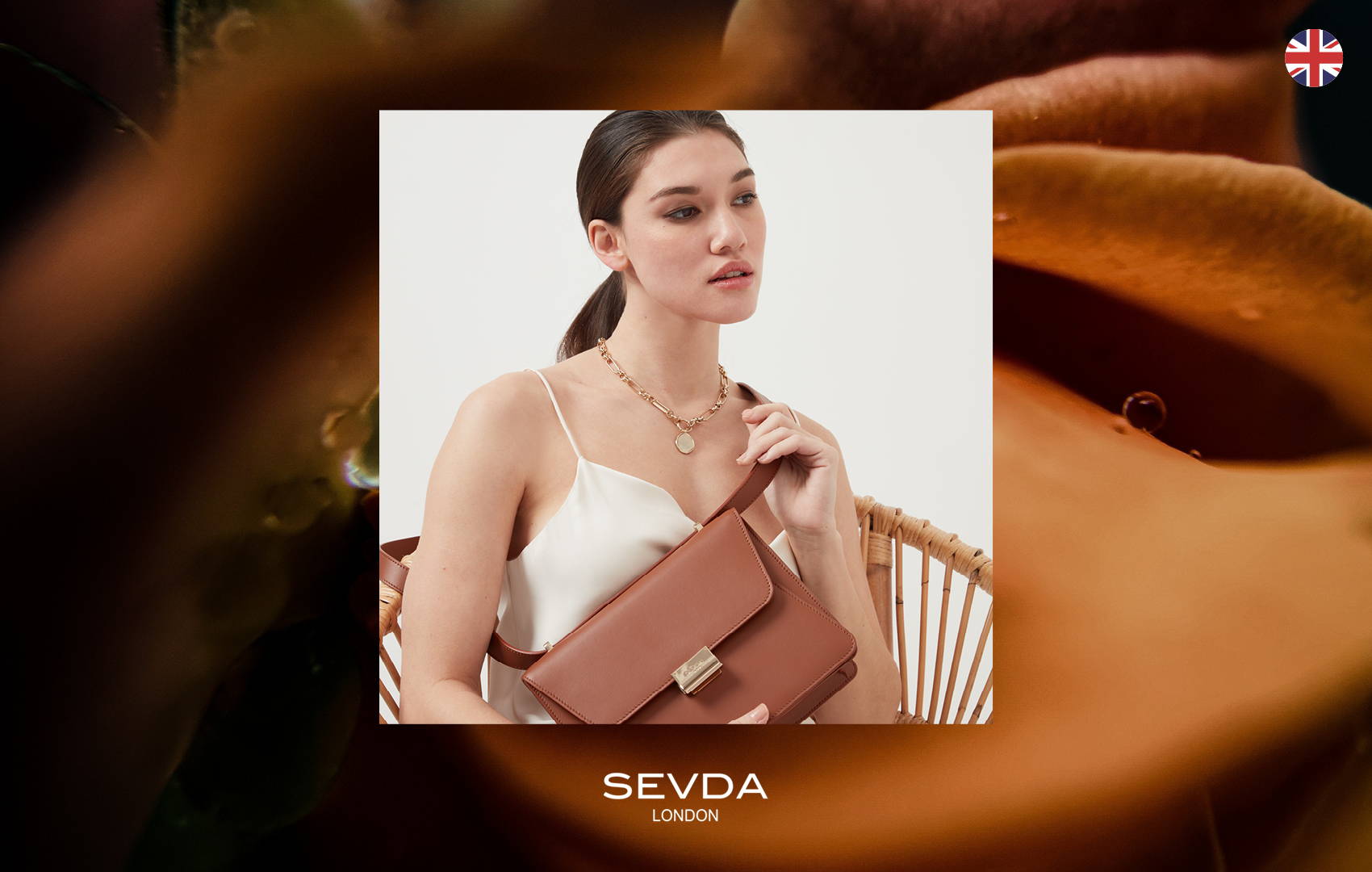 Plain Tiger Spotlight: SEVDA LONDON
A taste for the extraordinary
IVogue UK called SEVDA LONDON's accessories the 'sartorial equivalent of a detox,' and described its handbags as 'heirloom-worthy.'
Harper's BAZAAR said that sporting a handbag by SEVDA LONDON will 'cement a stylish arrival.'
And L'Officiel called SEVDA LONDON's cashmere blend scarf a 'summer's dream.'
We could go on and on, compiling a pages-long list of the idyllic words and phrases that have been used by fashion editors to describe SEVDA LONDON. It's a brand designed for women with discerning taste. And when you browse the collection, you'll know exactly what we mean.
A bag that will take you places
Let's just take a moment for the Tulip Mini – a petite version of the Tulip Tote. Now if you've got a weakness for handsome-looking handbags, we're willing to bet you've never seen a silhouette like this one. It's distinctively urbane and irresistibly cosmopolitan – a true product of the twenty-first century. And yet, it's also English-garden-gorgeous – the kind of handbag that will accompany you on a visit to the London Palladium or to that quaint cafe on the corner -– you know, the one next to the antique shop with its wares spilling out onto the cobblestone street. It's daring but it's oh-so dreamy.
Handbags like the Tulip Mini are expertly handcrafted by a small team of artisans based in a leather goods workshop in Florence, Italy. Each leather hide used to make a SEVDA LONDON product is ethically sourced from a tannery in Italy with a gold rating from The Leather Working Group. This accreditation ensures the traceability of each piece of leather as well as a commitment to sourcing only deforestation-free leather.
Designed to last long after the first impression
SEVDA LONDON's collection of accessories are pieces of a legacy – that of Sevda Mutlu and the women who wear them. Each piece is designed to be passed down from generation to generation, entering and reentering the circular economy with a series of encores and undoubtedly, a few standing ovations.
This commitment to the longevity of each piece is at the centre of Mutlu's deep-seated conviction that fashion should never be about excess. It should be about appreciation -– attaching meaning to objects that say something about who you are and what you believe in.
As she explains: "The COVID pandemic changed the way we look at life and our relationship with the world, each other and the environment. We were forced to slow down and reflect on our lifestyles and consumption habits. For many of us, it was a life-changing turning point -– a new level of consciousness.
Now, I don't believe we could ever return and make the same fast fashion mistakes again. For SEVDA LONDON, going back to petroleum-based plastic clothes and accessories is no longer an option. That way of living is a thing of the past. The future is so much better, and so much brighter."
And, when it comes to detailing of fine-toothed proportions, SEVDA LONDON makes no compromises. Everything is meticulously measured from the thickness of the thread used to assemble the textiles, to the number of perforations per centimetre, which are mapped out beforehand. In a world of fast fashion; where stitches, garments, fibres, machinery and human beings are nothing more than numbers, this level of appreciation is undeniably rare.
The hands behind the brand
Now let's take a moment for the founder and designer of this Euro-chic brand, Sevda Mutlu, a Turkish-born creative entrepreneur who has chosen the bustling city of London to be the heart of her art.
Mutlu completed several certificate programs at the Central Saint Martins College of Art Design in London and is a graduate of the Mimar Sinan Faculty of Fine Arts Textile and Fashion Design in Istanbul.
Like many fashion graduates, she dreamed of owning her own brand. Sadly though, it's often the case that without the right level of business acumen, natural aptitude for entrepreneurship and a generous dose of grit, many fashion designers simply don't make it out in the big wide world. But Mutlu was unshakable. She started with a small collection of handbags, tested it on the market, gauged the potential for growth and then took the plunge into the world of brand building, from the ground up.
Just a few years later and those very same handbags would grace the catwalks of London Fashion Week, catching the eye of the who's who of the fashion world. It's certainly something to be proud of.
For the new world with love
Mutlu has the most wonderful things to say about the women who love and support SEVDA LONDON, showcasing its classic designs season after season on the streets of the world's fashion capitals, in secluded pockets of the countryside and in their places of work and play.
As she explains, the SEVDA LONDON customer is "modern, smart and independent. She could never be a carbon copy of anything or anyone else. Neither could she ever be seen as ordinary. Her style is an expression of self and the values she invests in.
She doesn't chase after name brands, but she's deeply interested in brand identity. She derives great happiness from admiring artisanal work and has a deep respect for the resources that Mother Earth provides. We should never waste them. We should protect and preserve them. We should support positive change.
The SEVDA LONDON woman is a cultural traveler. You'll notice her handbag as she saunters through the walkways of the Victorian & Albert Museum in London or glides across the sparkling floors of the Palais Garnier in Paris. And, on balmy English summer days, you'll find her amongst the roses in Kew Gardens flipping through the pages of a good book."
Sigh. Now that's a pretty picture. And everyone should be a part of it.