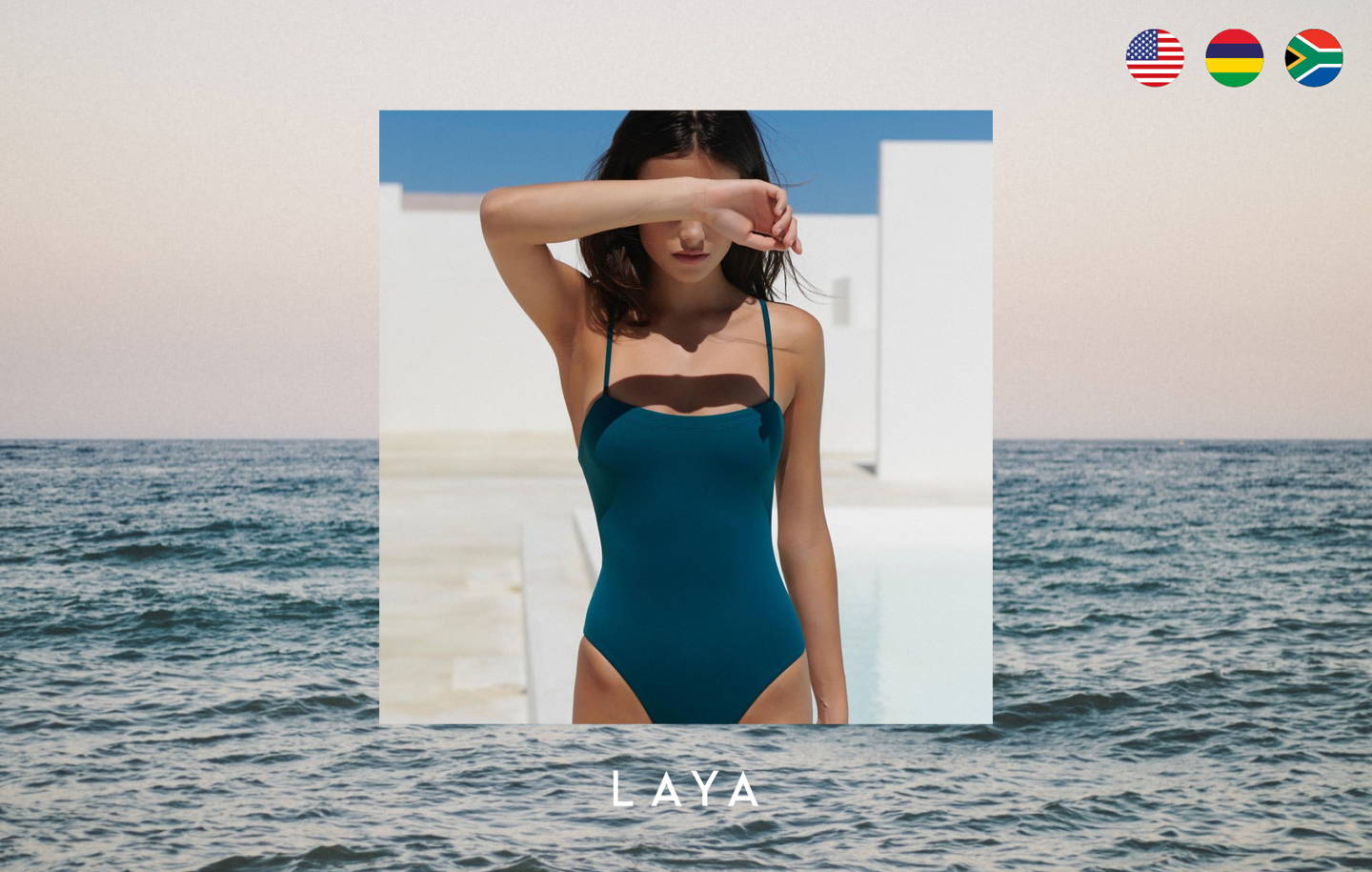 Plain Tiger Spotlight: Laya
Sea-loving swimwear for the modern mermaid
Designing and producing fashion that is sustainable is not a tick-box exercise. It's a deep-seated philosophy that underpins everything from the textiles that are chosen and the carbon emissions of production processes, to the working conditions for employees and the lifecycle of each piece. It is a philosophy upon which Laya founder, Witney Tucker has built a brand.
Witney is the daughter of 1974 Miss World winner, Anneline Kriel. As a young woman, she felt compelled to find a working middle-ground between her love for the ocean and her "passion for fashion." For Witney, producing good fashion that came at a cost to the planet and its people was simply not an option.
Today, Laya exists within that working middle-ground, delivering swimwear that transitions from palm-lined beaches to crystalline pools with elegance and ease, while embodying three key attributes: sustainability, ethical production and a commitment to slow fashion.
For Witney, Laya is less about consumerism and more about community. It's a brand of swimwear for women who are comfortable and confident in their own skin. As she explains, "I think that there has been a huge shift in our overall mindset when it comes to our consumption of all things. Fashion is just one aspect of a much larger change we are going through as global citizens. Aligning with the 'bigger picture' and comprehending the power of individual choice is what the future of fashion is all about."
Witney and her family have close ties to Mauritius, having moved there when she was young. Today, all Laya swimwear is manufactured on-site in Mauritius, which for Witney, is "where the magic comes together." Her affinity for the natural beauty and abundant resources of this island paradise led Witney to extend the fruits of her thriving business to a local cause. Laya is the official sponsor of the Mauritian Barbarians - the local women's rugby team.
About this sponsorship, Witney explains that, "as a female-owned and operated business manufacturing out of Mauritius, we wanted to empower women we look up to while supporting the beautiful island we manufacture on. These women train hard, support each other and definitely are not shy. They embody everything that is Laya. We love being part of this family and strive to continue to support women and produce swimwear that makes you feel confident on the beach and beyond."
What you'll find when you flip through the Laya catalogue is a design ethic that is committed to timelessness as opposed to trendiness. Each piece is designed to be worn and reworn, cherished and passed on. Sustainability is a non-negotiable, and quality is never compromised. Each piece has an SPF of 50 and is fully lined with seamless finishes.
Witney and her team are relentless in their search for innovative ways to design and produce better fashion. Laya's textured pique has become a firm favourite. Every design and print, no matter how intricate, is designed to be mixed and matched with other collections in the range. For instance, a top from the Core collection will match effortlessly with a bottom from the Resort Collection, allowing Laya clients to embrace their own flair for colour, texture, shape and form.
From vibrant pops of colour to earthy neutrals, the Laya swimwear collection caters to all sensibilities, always embodying the grace and serenity of the ocean that has inspired Witney to keep innovating year after year.
"Laya swimwear transcends time, and that's what your clients value the most about our brand. Our customer is the kind of woman who feels at home when her feet are in the sand. She embraces the beauty of the outdoors and feels a deep synergy with nature and her own organic sense of beauty. The Laya woman understands that her choices impact other people and the planet and so she chooses wisely. We cherish and appreciate her sense of discernment," says Witney.