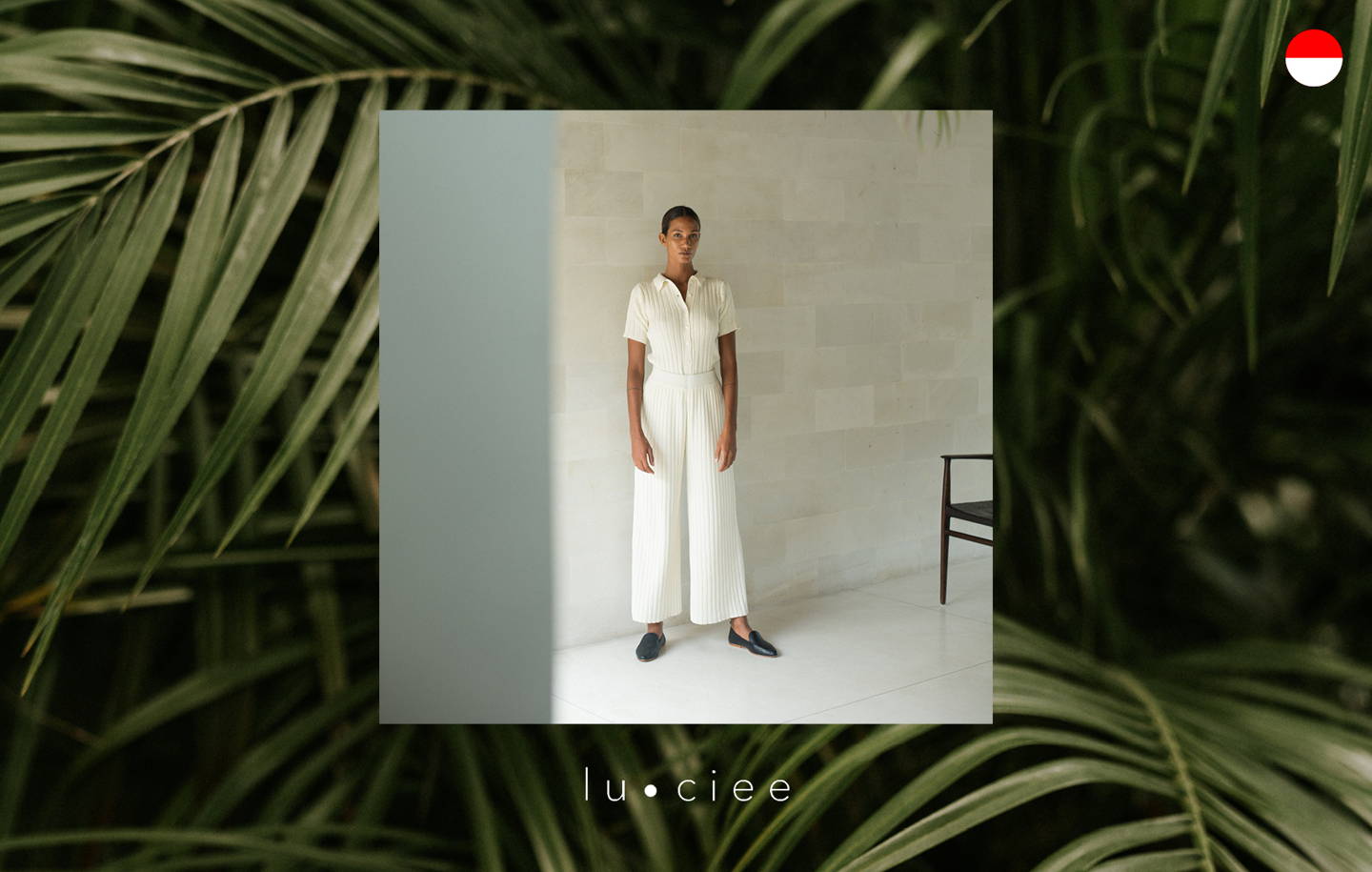 Plain Tiger Spotlight: l u • c i e e
With love from the tropics
In the Indian Ocean, where an azure sky overlooks forested volcanic mountains on land and coral reefs in the sea, is an Indonesian island called Bali. It's earned acclaim as a global travel destination that epitomises everything people have come to love about the tropics. But for l u • c i e e founder, Lucie Kucharova, Bali is so much more. It is an island of opportunity – the home of talented artisans who deserve to earn a fair livelihood and hone their craft in an environment that is safe and cognisant of the nuances of their unique and beautiful culture.
Fashion brand, l u • c i e e was launched in 2019 as a women-led, responsible and sustainable business that employs men and women predominantly throughout the local communities in Bali to create handmade fashion that is not dictated by the trends.
Produced in small batches that are dictated by the needs of consumers, l u • c i e e collections are designed for women who believe that in their individual capacities, they have the agency to change the way the world thinks about fashion. It's a daunting task. It may at times even seem beyond our reach. But brands like l u • c i e e and the individuals who support them, are driving the much-needed change in an industry that is in desperate need of a paradigm shift.
When you think l u • c i e e, think monochromatic statements, plush textures and breathing room. But never put it in a box. It's ready-to-wear, safari-chic, elegance embodied, and at times, it borders on boho. It's fashion that speaks its own language in vibrant textiles like linen, cotton and mohair.
The story that founder Lucie Kucharova tells, is not linear – starting with design school and ending with a design brand. Instead, her journey was filled with interesting twists and turns, starting with a qualification in International Relations and later, a career supporting adolescent youth around the world.
Her creativity stems from life's age old teacher – necessity. She grew up in communist Czechia, a context devoid of the concept of excess. As a teenager, she made her own clothes; using fabrics that were available in one of the two stores in her city, and up-cycled her mother's wardrobe. In those formative years, she had no idea that her hunger for invention would lead her down a path of imagination, and ultimately a reimagination of a fast fashion industry that she believed was fundamentally flawed.
Today, l u • c i e e supports the development of young Balinese people, women artisans and the environment. 5% of its profits go to the ROLE (Rivers, Oceans, Lands, Ecology) Foundation as well as The East Bali Poverty Project (EBPP), both of which are well-known organisations in Bali that provide support for impoverished, marginalised, and at-risk girls and women. This is made possible by EMpower - The Emerging Market Organisations for whom Kucharova spent 10 years working in London and Hong Kong, as a fundraiser.
The ultimate aim is to enhance the self-development of young women by encouraging them to stay in school and be better prepared to access the job market.
In 2021, l u • c i e e started making great strides towards offsetting its carbon footprint by partnering with Health in Harmony and planting trees in Indonesian Borneo. These efforts go beyond the imperative to offset carbon emissions and extend to increasing access to affordable healthcare, investing in women's leadership, providing sustainable jobs and restoring biodiverse ecosystems.
For Lucie, the sentiment is simple and embodied in these words which she shares with her global community:
I care.

I care to live a slow-er life.

I care to be connected to nature.

I care for most things to be minimal yet rich.

I care to provide fair livelihood opportunities to the women and men I work with on this island, and away.

I care to build strong human connections, partnerships and join in collaborative efforts with like-minded businesses.

I care to inspire other women to make meaningful purchases.

I care to play my role in shifting the paradigm of fast fashion towards conscious consumption.

Occasionally, I care to dip my feet in sand and hug the Earth with my toes.

Your life is the sum of all your experiences.

Welcome to our conscious family.