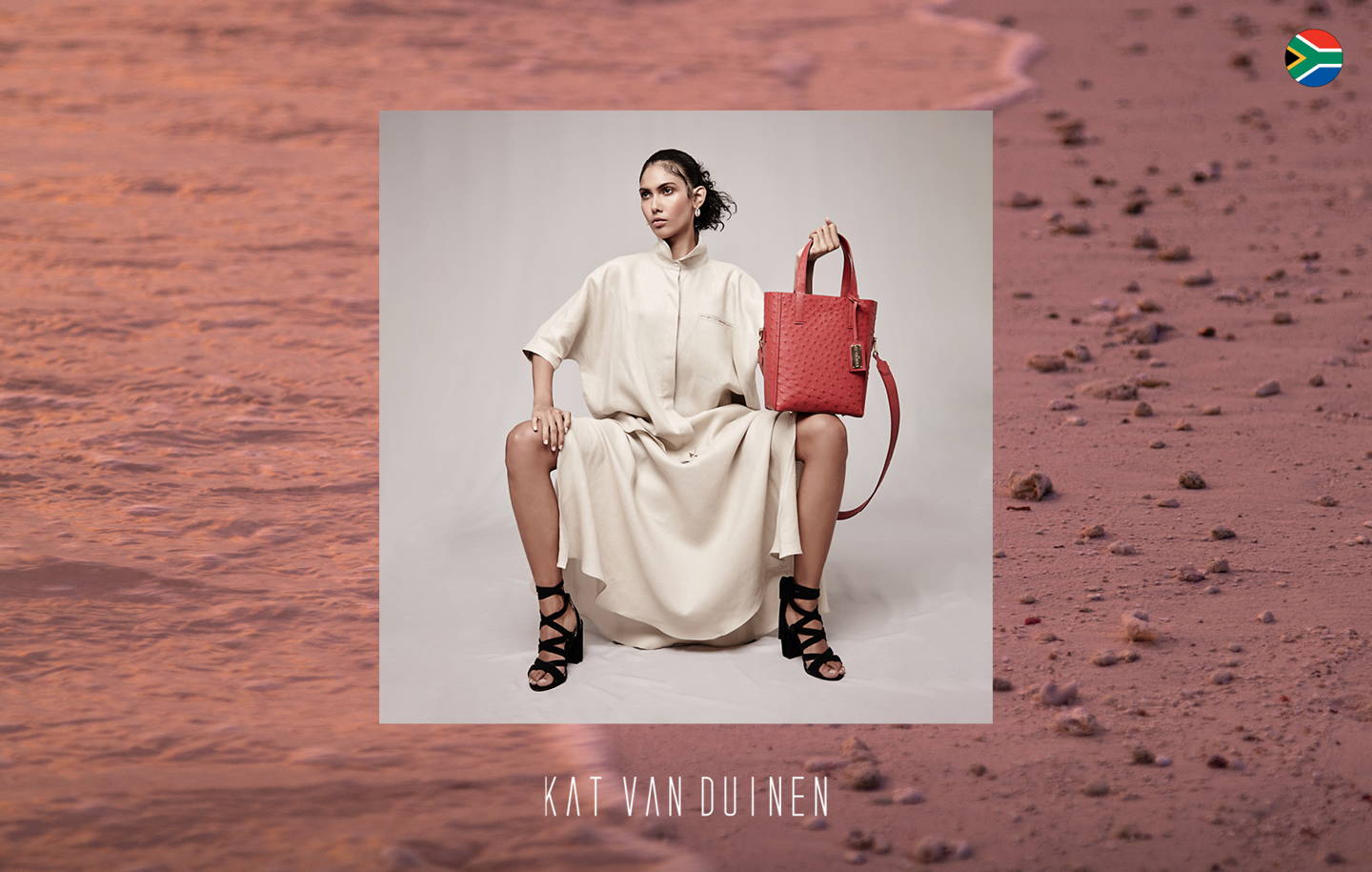 Plain Tiger Spotlight: Kat van Duinen
Powered by passion and patience
"Every designer should be a problem solver."
~ Kat van Duinen
Her pieces have been flaunted by the international celebs like Solange Knowles and Diane Keaton. Her looks have graced catwalks across the African continent. And her stance on the fact that luxury African goods should be made and produced in Africa, is one that will make you think. Her name is Kat van Duinen, and she is the head designer and founder of her namesake brand which was founded in 2010. Today, Kat van Duinen's name is right up there with the biggest names in African design.
Together with her talented team, Kat is on a mission to put South Africa on the map as a design and production destination. But there will be no sweatshops on her watch. Kat is passionate about nurturing local artisans, treating her workforce with respect, helping them to develop their skills and celebrating the exceptional quality of local craftsmanship.
As she explains: "Every step in the right direction signifies progress, powered by passion and a strong belief that the continent should not merely service the international design industry, but play a key role in creating fashion and stories that can be treasured for generations. Sustainability is about longevity and being able to create a long-term plan for the industry. For me, sustainability means controlled, transparent output, the fair treatment of staff, up-skilling, the promotion of artisanal culture, and cherishing and celebrating items that are made by human hands."
For Kat, issues that spark conversation around sustainable fashion are often vastly oversimplified by condemning the use of animal products and advocating for plastic alternatives. In her opinion, the over-production of plastic is a counterintuitive solution that ultimately contributes to the very thing the world needs to reduce: landfill waste. For Kat, the conversation around slow fashion is more complex and nuanced.
As she continues, "It is also about reducing the mass farming of domestic animals, stopping the over-production of fashion items and preventing the destruction of tons upon tons of unsold merchandise to keep prices up."
During her time as the founder of her own design label, she has had the opportunity to debate and converse with key members of the high fashion community, including one of Louis Vuitton's Sustainability Scientists. Ethical, slow fashion is something that Kat has immersed herself in. It's the kind of topic she'd gladly talk to you about over a cup of tea (or three).
For Kat, the overarching solution is education – teaching emerging generations to choose natural materials and shop consciously. She also advocates for building niche brands that speak to specific and bespoke design tastes instead of promoting mass-production. Other solutions include supporting local businesses, volunteering, buying less, mending more, treating your clothes with care, storing them correctly, buying second-hand and passing unwanted items onto other people. Her philosophy is simple – always consume, never waste.
In Kat van Duinen's collection you'll find interesting reinterpretations of the classic white shirt, asymmetrical creative perspectives on traditionally symmetrical designs, timeless monochromatic colour ways and a generous amount of tastefully designed bows and frills.
Kat van Duinen is about story-telling – sharing the African perspective with the world, becoming a pioneer in the local production space and driving change in the market for African luxury goods. Every garment tells a story about unwavering commitment, determination and unrivaled talent.
Ultimately, Kat sees herself as a problem-solver – someone who has built a brand that can answer the tough questions and pose new ones. As a team, her workforce constantly looks for ways to improve their operations. She believes in listening first and creating second, which means that for Kat, customer feedback, suggestions and questions are at the centre of the decisions she makes as a designer and as a businesswoman.
So when you purchase a Kat van Duinen garment, tell her about it. And if you're South African, even better – seeing South Africans wearing proudly South African-made clothing is something that makes her heart sing, and we love it when that happens.