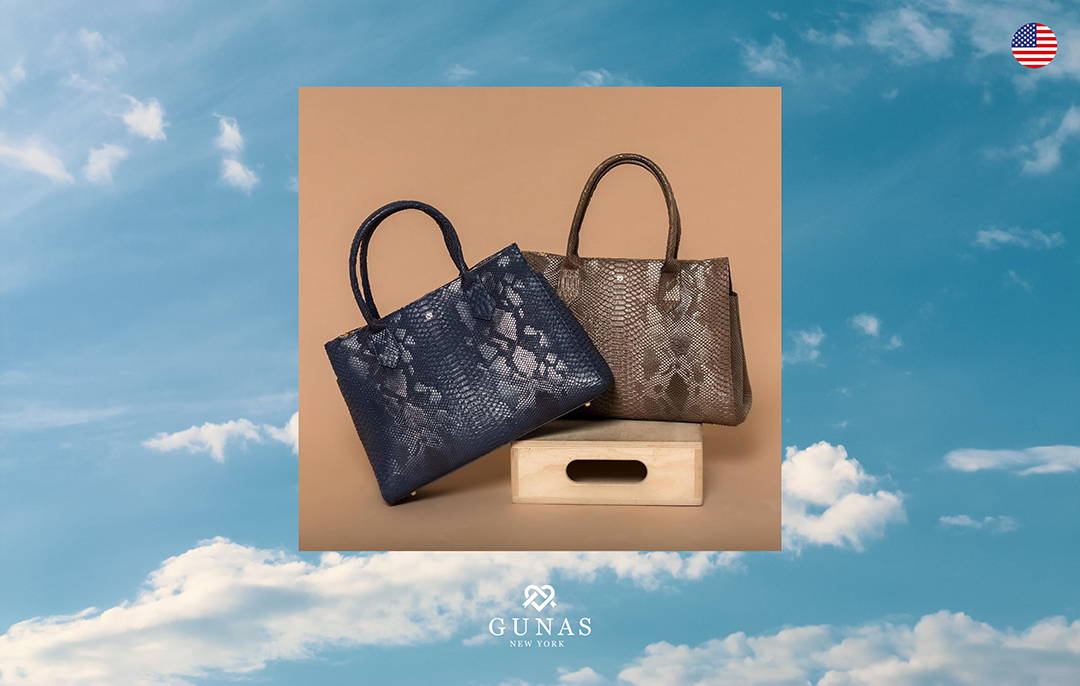 Plain Tiger Spotlight: GUNAS
Handbags by Good Humans, for Good Humans
If ever a handbag could embody the vibrancy and urban energy of New York City. If ever a handbag could give you that 'I've arrived' feeling. If ever a handbag could epitomise what it means to be unapologetically cosmopolitan, it would be a GUNAS handbag. And here's the best part – it does all this without harming people, animals or the planet.
Handbags and accessories by GUNAS are the kinds of items that will catch your eye even when the style is completely out of your comfort zone because each design is so-darn-delightful.
GUNAS was created by Sugandh G. Agrawal, an industrial designer, activist and admitted fashion addict. In 2009, Sugandh said goodbye to the corporate world where she held a position as an industrial designer at KitchenAid, and decided to put her stamp on the ethical fashion industry. Initially, she produced accessories under the MADE IN NYC label. She conducted thorough research in countries like Mexico, Brazil, Hong Kong and India to find the best manufacturing hub that would produce work that does not compromise on quality or the welfare of workers. Today, GUNAS is at the forefront of activism. I like to think of it as art activism, because each accessory is a piece of wearable art that's designed to make a statement and to make it for a long time.
Standing by her belief in 'high fashion, zero cruelty', Sugandh brought her vegan philosophy into her approach to fashion and decided to produce accessories that did not cause harm, in any form, to anyone. Animal, human and environmental welfare is at the heart of her brand, and this deep-seated passion translates into practical, meaningful action. A portion of the proceeds from the sales of GUNAS accessories are donated to a number of charities including the Woodstock Farm Sanctuary, the K9 Youth Alliance and the Coalition for Healthy School Food.
GUNAS accessories are produced in a factory in South Korea, by a team that Sugandh trained and nurtured, working closely with them to bring her designs to life. Here, she advocates for fair remuneration for her artisans, safe working conditions and brand transparency – three aspects that she believes are key to her vision of the fashion industry of the future. Sugandh believes strongly in the importance of building relationships with the people who bring the GUNAS brand from the factory to the shelves. She visits each studio annually to do quality checks and ensure that the workplaces she supports are being managed ethically.
In her opinion, "no one and no being should pay the cost for our fashion, other than us." The GUNAS brand manifesto captures this philosophy perfectly:
"We are committed to being a 100% vegan brand. We believe that animals are not a 'property' of humans. We are against the human nature of bullying and domination of other species.
We stand up to the culture of violence and suffering that we inherited against our will.
Justice, empathy and compassion are our core values.
We envision a world of peace, love and kindness that starts with each one of us. We advocate conscious consumerism over fast fashion. We make 'victim-free' fashion full of love for all. We will not participate in any kind of exploitation, be it towards our planet, people or animals."
Each accessory is designed in a way that emulates a classic silhouette that has reincarnated its way through the generations. The handbags are made from pebble vegan microfibre leather and recycled metal hardware, some with 18K gold plating.
Over the last decade, the exceptional impact that GUNAS has made on the fashion industry has been recognised by numerous industry bodies. In 2018, GUNAS won the award for MACY's Best Retail Handbag by an Independent Designer in a global competition that is open to women of minority origin. Also that year, Sugandh won the Creative Entrepreneur Award by her alma mater, Columbus College of Art and Design in Ohio.
Watch this space. Because GUNAS is going places.