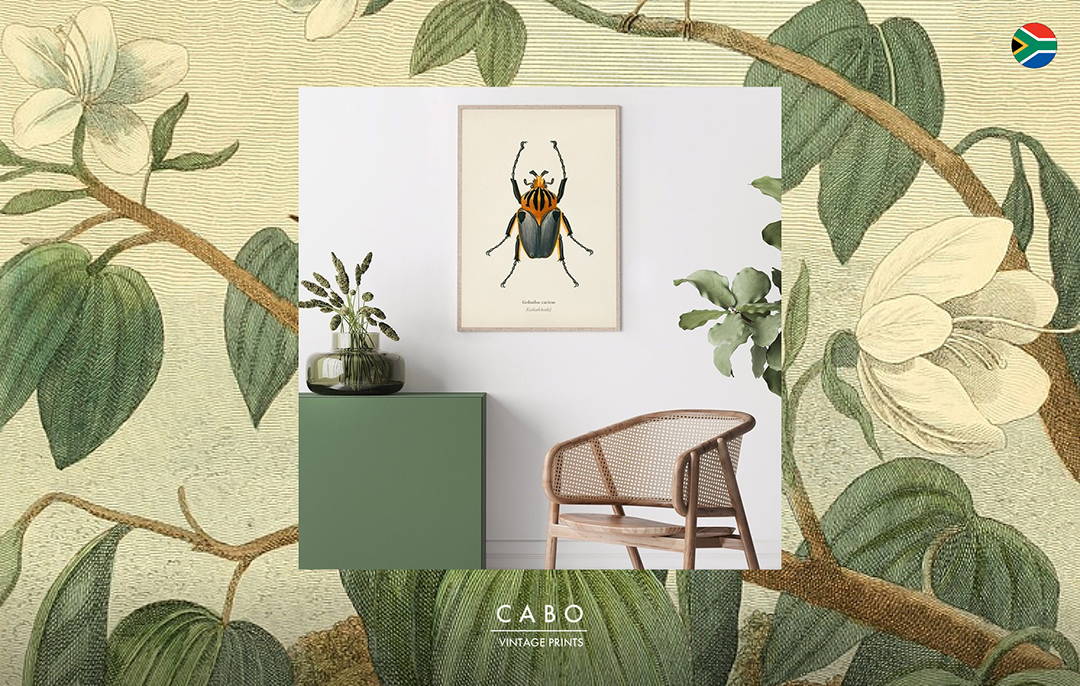 Plain Tiger Spotlight: CABO
Jumanji. But sans any animal stampedes or wildlife coups. Also, not the 2020 version. I'm talking about the classic 1995 version – the one that was way ahead of its time in terms of cinematic effects and animation. As a child, it took my imagination where I'd always wanted to go. That's the fond memory I get every time I see a CABO print.

CABO is one of those brands that will leave you thinking, "they don't make them like this anymore." And they certainly don't. CABO is a vintage print paradise.

They're the kind of prints you might find in the office of a seasoned professor, positioned on a dusty bookshelf bursting with Old Worlde trinkets and family photos. You'll also find it in a sun-basked, luxury villa in Tuscany. Or in a New York penthouse – a refreshing ode to the natural world amidst the mechanics of the urban jungle.
CABO is a South African brand founded by Cathy Mill, an entrepreneur and bibliophile with 15 years of experience in the interior design industry. Combine this experience with her love for history, travel and nature and you get to the essence of what CABO represents.

Cathy's collection of prints is inspired by a long-standing appreciation for the work of Robert Jacob Gordon, an early explorer, artist and naturalist who documented the Cape's fauna and flora during the late 1700s. On her journey to find vintage art that speaks the language of adventure and discovery, Cathy explored the graphic style of some of the earliest botanists and ornithologists who chronicled magnificent bird and plant life from all over the world.

Bird life, botanicals, jungle scenes and insects are among the muses that inspire the vintage art you'll find in the CABO collection. And with nature being its most prominent subject, CABO also structures its printing and shipping processes around what's best for the environment.

All CABO art is printed on paper from a renewable source that crafts its output according to strict environmental commitments. All prints are printed to order, thereby reducing the unnecessary use of energy and resources. If a framed print is what you're after, then rest assured that the timber for the frame is also crafted from renewable resources that do not require the use of chemical composites in the production process.
All CABO art is inspired by work from the late 1600s and not later than after 1900. For lovers of all things vintage, this is a one-stop art destination. Its prints are reproduced in an authentic way that represents and celebrates the style and work of the original artists.
Cathy's clientele spans both the retail and trade world where CABO prints are sourced by interior designers and decorators across the globe, to beautify private homes, guest houses, offices and hotels.
Expanding on why now is the perfect time to be building a brand like CABO, Cathy explains that: "there is and has been a definite movement towards authentic and artisanal work in many spheres of the interior industry. People are going back to everything handmade and slow made. CABO prints are timeless. They capture a yearning to return to a gentler, easier time and a deep connection to the natural world. Our clients are people who want to create their own cocooned oases – spaces that remember the old and welcome the new in a way that is classic and unmistakably stylish."

Do yourself a favour, take a scroll through the range of CABO prints on Plain Tiger and follow your imagination wherever it leads. You may find yourself immersed in foreign ocean wonderlands, swimming among urchins and coral. You may even travel to the Amazon jungle, magnifying glass at the ready to discover fascinating insect species. You may be transported to a royal estate – the domain of flamingoes and ruff-necked hummingbirds.
Anything is possible. Because this is the kind of art that takes you places.