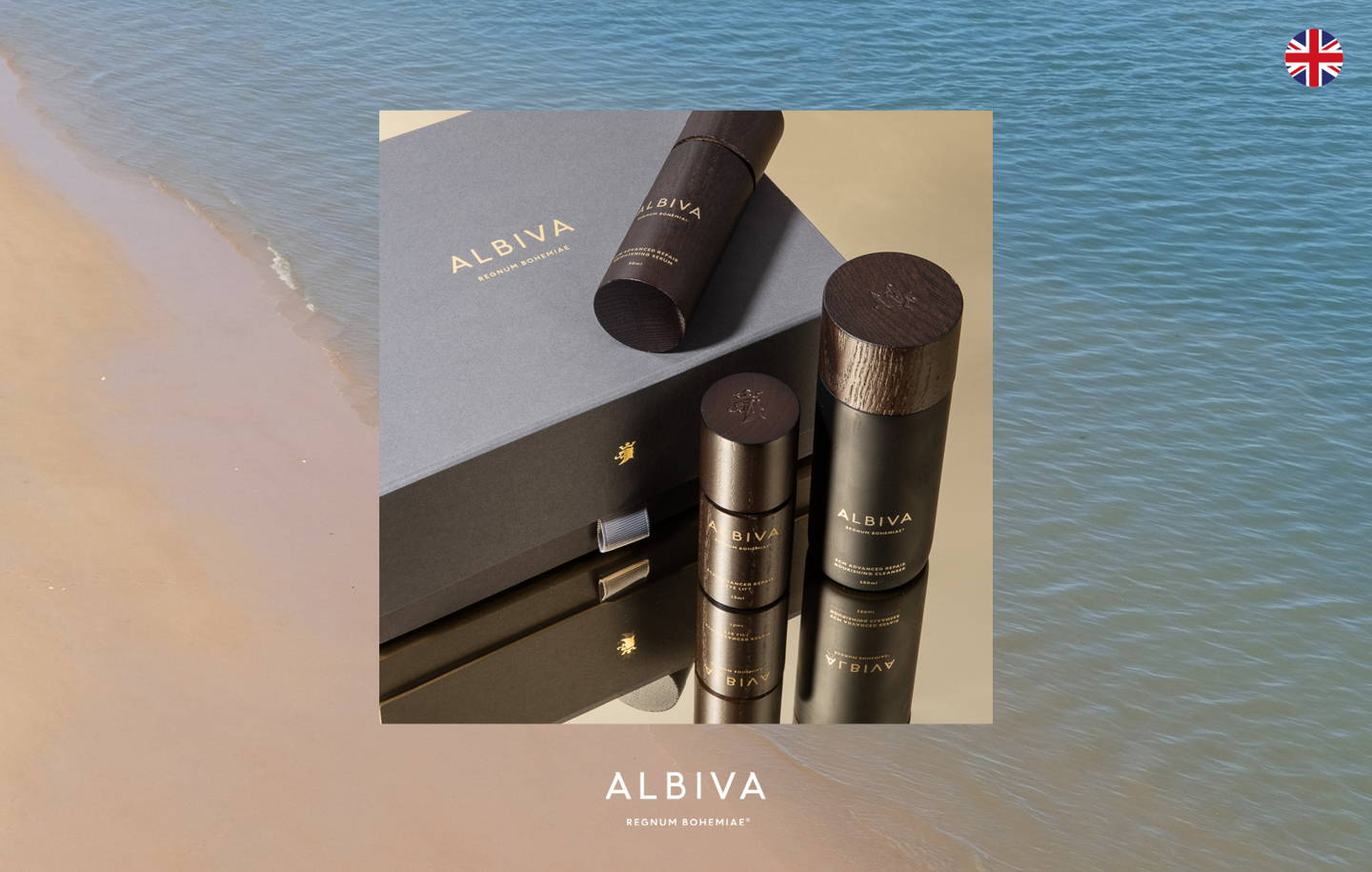 Plain Tiger Spotlight: ALBIVA Skincare
Where nature and science meet
Growing up in the region of the former Kingdom of Bohemia, Ivana was introduced to the regenerative healing and adaptive power of nature by her beloved grandmother Albina, from a very early age.
"My grandmother was a herbalist, and also the Inspiration for my brand's name ALBIVA, who would rinse my hair with her home-made organic nettle rinse to make it thicker and shiny. After I suffered some nasty burns, she treated them with ointment from a lily flower to prevent formation of scars. I remember fondly walking through fields with her teaching me to recognise plants and their medicinal properties: yarrow for healing wounds, dill for digestion, comfrey for skin irritations, and the list continues." she says.
Her love for science, and seeking a deeper understanding of things, led her to study biomedical sciences to better understand the biochemical processes of our bodies. "During my post surgery recovery and focus on regaining wellness, I realised being healthy isn't a fad or a trend, but a lifestyle. The idea for ALBIVA was born and took a further 10 years to develop." she adds.
Ivana took inspiration from Ayurveda, where the whole body is assessed to treat a problem. Her idea was to create a product line that contributes to overall wellness of the body, to help restore balance, to nourish and of course, heal.
"As our largest organ, the skin, is the most visible reflection of the state of a person's health. It is also a reflection of the nervous system, because it originates from the same embryonic tissue that gave birth to this system during gestation, and also has a connection with the digestive tract and kidneys." she adds excitedly. "I have therefore launched ALBIVA with focus on treating this largest organ through products that go beyond beauty and skincare. I set out to create a next generation product that harnesses nature through science. Using purest natural and organic ingredients from sustainable sources." she says.
Rather than focusing on skin type, age group or gender, Albiva's products are designed to activate the skin's natural ability to repair itself and empower their customers to use and combine their products as they need them.
"As we see an increased crossover between beauty, health, wellness, nutrition and fitness, what we put on our bodies becomes just as important as what we put in it." she adds. Consumers are starting to recognise the wellness benefits of their beauty products and are seeking a much more holistic approach to beauty and treatments. "I developed the brand for those who want natural products and seek to avoid unwanted, questionable ingredients but who expect cosmeceutical results and won't compromise on efficacy or luxury. At ALBIVA we push the boundaries of science, nature and technology, creating products that make a real difference – not only to make skin beautiful but also keep our customers healthy and improve their quality of life." Ivana adds.
Ivana started ALBIVA with the opportunity and passion to do things differently – especially when it came to sustainability, placing it at the core of the company. "From our beautiful wooden bottles that carry the PEFC mark (sustainable forestry), packaging made from hand-made paper that is not plastic coated, to using high quality natural and organic ingredients from sustainable sources. "Sustainability, waste reduction, reducing carbon footprint and taking care of the Earth is at the heart of what we do." she adds.
"As a brand, we are not only committed to reducing plastic in our products, we go beyond that. Management of natural resources, and their conservation for future generations, is why we source ingredients that are grown and harvested sustainably. We believe consumers should be moving beyond natural ingredients and seek out products that minimise the environmental footprint. At ALBIVA we bring you products that harvest the power of nature whilst respecting the environment and its biodiversity.
We believe that: "Natural Is A Trend, Responsibility A Mindset"." says Ivana. "As one of my favourite proverbs states: "We do not inherit the earth from our ancestors, we borrow it from our children". I personally believe it is our responsibility to cherish what remains of our nature and foster its renewal, and in the process be the best we can be. I have therefore carried my own personal values through the brand, making sure when sourcing our sustainable ingredients we integrate not only the environmental, but also the social and ethical factors, and that issues such as natural resource depletion and environmental degradation are well considered." says Ivana.
When it comes to a skincare routine, Ivana suggests keeping it simple and consistent. "Establishing a simple and stable skincare regimen will make all the difference. I recommend at least 3 basic products to use: a good quality cleanser, moisturiser and broad-spectrum SPF. Our Nourishing Cleanser is by far one of my favourite products." she says. "Layering on too many products can be a stressful challenge for your skin and potentially do more harm than good." she adds.
A good quality cleanser will remove makeup, dirt, pollution and grime without compromising your skin's protective barrier. Thoroughly cleansed skin will allow your moisturisers and serums to reach their full potential. An evening cleanse will support the skin in its overnight regeneration and renewal processes. Ivana's advice, "never skip on a good quality cleanser."
However, her objective was to create multi-functional formulas with high quality ingredients that were packaged in a way to preserve their efficacy. The formulas were designed with the idea of replacing two or more products currently in people's skin care regimen with one quality item which would reduce waste. "We want our customers to consider their purchases and encourage everyone to buy better, buy less and waste less." she adds.
"I believe a greater connection still needs to be established between beauty and wellness/wellbeing and the understanding of the impact our beauty/skincare regimens have on our mental health as well as our environmental impact." says Ivana.