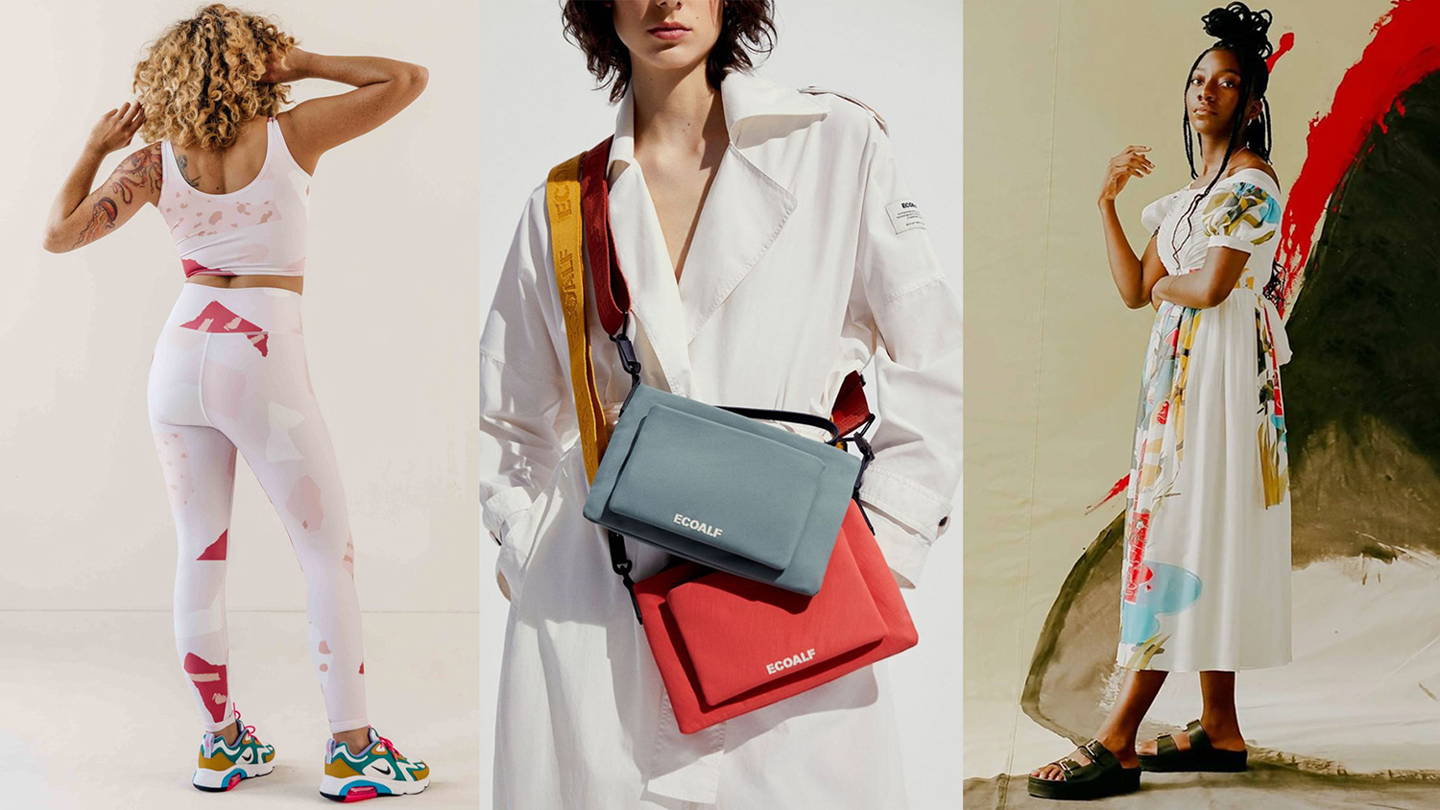 Meet the Waste-led Game-changers of the Fashion Industry
Conscious fashion with a conscience
Designers That Are Breathing New Life in to Waste
Less than 1% of recycled clothing is transformed into 'new' clothing. Clothing is incredibly hard to recycle due to the nature of garments' fixtures and hardware and the intricacies due to fabric blends. While you may be purchasing something that is 100% cotton - the garment, more than likely, has a different fabric tag or care label.
Meet three designers that are transforming waste into pieces we'd love to own.
Since entering the fashion industry - Bethany has made waves with her fully sustainable collections using waste and recycled materials. Her drive for female empowerment led her to employ inmates from HM Prison Downview to create her jersey pieces for her SS20 collection. Additionally, she had recovering addicts in the San Patrignano Rehabilitation Centre in Italy weave book-waste into fabric, by hand, for her SS19 collection. She only uses recycled, deadstock and organic materials. Her A/W 2020 collection featured shorts made from recycled nylon from bell tents and patchwork coats made from discarded blankets.
Bethany Williams has been an avid supporter of The Magpie Project and a donor using proceeds from her sales. The Magpie Project came to fruition when a group of 15 women, from across all walks of life, realized the hardships their fellow community members were facing, specifically moms of children under the age of five years. Their focus is that of homeless mothers and those living in unsatisfactory conditions. The organization provides support to these women in the form of baby supplies and provides them with resources in order to secure food and shelter.
Bethany believes that sustainability and social equality go hand-in-hand. Bethany had her reservations about entering the fashion industry as the industry, as it was, was focussed around the 'new' and did not align with her eco-conscious beliefs.
Nube is a woman-owned fashion brand that turns plastic old into new. Wearing an item from Nube means that the wearer is essentially wearing plastic bottles.
Nube partners up with artists and designers from all over the globe to create artwork that is inspired by environmental issues . Nube prides itself on using recycled polyester (rPET). Their recycled polyester is 79% rPET and 21% spandex. They are also working with students, artists and rag traders in the hopes of turning their scraps into new products. Each pair of leggings is made from at least 20 plastic bottles and each crop tank uses around 7.
Ecoalf is a brand that thinks way beyond upcycling and recycling. Through open communication with key-roleplayers in the fashion industry, their goal is to align seasons and to simplify how clothing is released. In short, they would like to instill that summer be sold during summer and winter during winter and for the whole duration of each respective season. I remember, when I was a child, my mother cursed the stores mid-winter when I had outgrown my tracksuits. Summer dresses had creeped onto the racks while frost was still forming on the windows.
100 % of their fabrics are sustainable. During the years of their existence, in partnership with their suppliers, they have managed to create more than 400 recycled fabrics.
They work with three types of Recycled PET (rPET). rPET from land waste, rPET from the sea and rPET from garments. They also work with recycled nylon, mostly from fishing nets and ECONYL. ECONYL is regenerated nylon, made from discarded clothing, carpets and fishing nets.
"WE ARE CONVINCED THAT DECISIONS THAT ARE RIGHT FOR THE PLANET WILL END UP BEING GOOD FOR THE BUSINESS."
One of Ecoalf's latest collabs is with Michelin, upcycling old tyre rubber into shoe soles.
A Foundation Making a Difference
Slow Factory Foundation, amongst other things, is an educational platform. Students are educated on sustainability and given the tools to thrive in a fashion industry that is ever evolving in terms of sustainability and social awareness. Cultural understanding as well as human rights and environmental justice are a big focus in their teachings.
'Slow Factory transforms socially and environmentally harmful systems by designing models that are good for the Earth and good for people. We work to advance our vision of climate justice and social equity through regenerative design, open education, and materials innovation.' Slow Factory Foundation
Besides operating as an educational platform, they operate as an independent research lab, a media platform and they assist with financial aid in the form of grants. They consult with global brands and non-profits on materials, educate them on social and environmental issues, the importance of transparency in the manufacturing process and provide research.
'We believe in a regenerative, climate-positive, anti-racist approach to creating climate change' Slow Factrory Foundation
The Brains Behind the Brand
Cèline Semaan is one of two Slow Factory founders. She currently serves on the board of directors for the organization. The organization was formed in 2012 by her and her partner. She is a recognized expert and key roleplayer in the space of environmental and social justice. She coined the term 'fashion activism' and has played an instrumental role in approaching sociopolitical issues using her own fashion line. For example, she joined forces with American Civil Liberties Union and collaborated on an official US Navy MA-1 flight jacket which, had embroidered into it, the first amendment in english and the declaration of independence in Arabic. This was to bring awareness to the plight of refugees as well as highlight and protest former president Trump's immigration ban.
Earlier this year Slow Factory Foundation teamed up with Adidas and Stella McCartney on funded apprenticeships online for BIPOC (black, indigenous, and other people of colour) candidate courses. The purpose of this program was to teach sustainable skill-sets, apply knowledge and give this demographic an advantage in the workplace that they would have not had access to themselves. Among other topics, BIPOC educators set out to break down sustainability, racial injustice and other topics pertaining to the fashion industry.
A Competition with Purpose
Slow Fashion Factory is focussed on highlighting contestants' potential and skill sets in the realm of sustainability and environmental impact. The foundation has given 6 participants seven months to design solutions around circular fashion. Competitors are asked to come up with a circular garment or system innovation by first considering their innovation's end-of-life and using this as a starting point.
'This program will challenge participants to experiment with and provide tangible solutions for disassembly and reuse of products through de-manufacturing, up-cycling materials and other processes.' The slow Factory
Visit Slow Factory Foundation for more information on their courses and upcoming events.