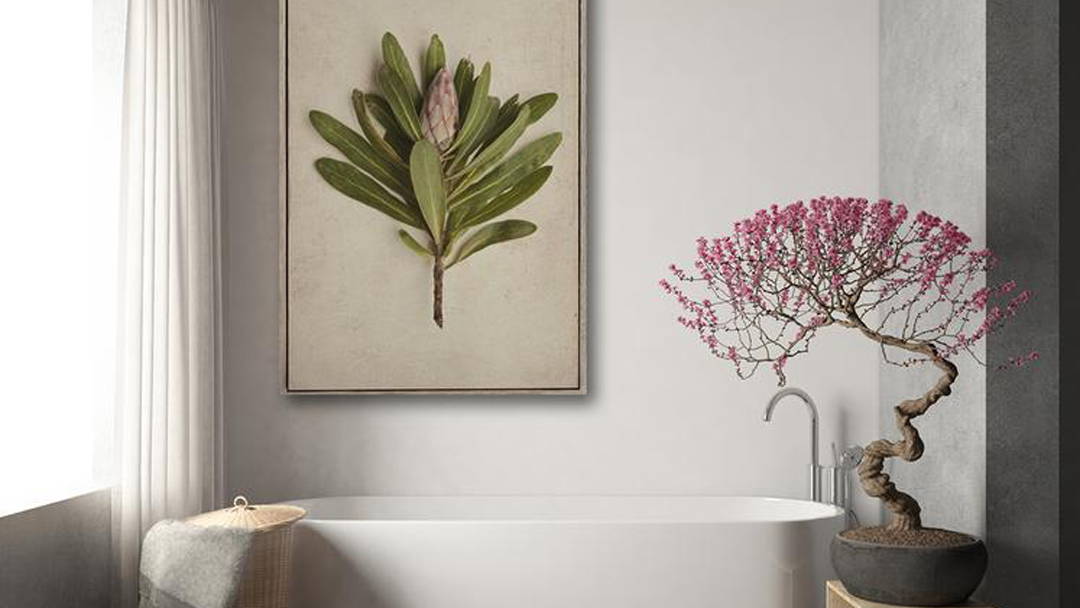 Selecting art for your home
Art is often that piece that brings a room together, sometimes it is the starting point for a space, other times the cherry on top.
When selecting art for your home, be mindful that art represents the personality of the people in the space, it adds character and can completely transform a room.Remember to consider the artwork's style, size, colours, but most of all how it makes you feel. There is no 'right' or 'wrong' art for your home. Art is highly subjective, a personal preference and that's why it's vital that you choose art that you love. You can do a lot of online research when looking for a piece and there are some great opportunities to see art in person. I'd recommend visiting art student exhibitions as well as independent and start-up galleries, they often have the work of smaller, lesser known and local artists.
If you buy a piece of art from a reputable gallery by an artist with good reviews then the chances of it going down in value are minimal. However, art can take decades to increase in value (think of Van Gogh, whose art was only appreciated post mortem). So rather invest in a piece that you love and brings you joy. Buying art to celebrate a special occasion like an anniversary or milestone birthday can give it even more meaning.
When selecting the style of artwork consider whether you prefer a more abstract or contemporary style of art. Are you a fan of a more classic style or is photography your choice? Do you prefer a landscape, still life or portrait? It's important to do your homework and determine which styles appeal to you. It is not essential for the style of art to match the architecture of the space- especially if you favour an eclectic look.
The kitchen and bathroom:
Often overlooked when it comes to art, these spaces need pieces that can withstand heat and moisture. You should also avoid art that is framed under glass as this may get damaged by condensation. Sculptures and pieces in vinyl are a good option.
Regarded as a tranquil retreat and a place for relaxation. The selected artwork should enhance that with softer more muted colours . The best walls for art in the bedroom are directly over the bed or on the wall opposite the bed.
Given living rooms are where the family and friends gather and where guests are entertained, they are the ideal room to showcase striking pieces that make for great conversation starters. Art in this space makes a statement about your interior style and personality. Living rooms are often one of the largest spaces in a home and can accommodate several pieces of art. Ensure that there is a feature (primary) artwork and secondary pieces.
The hallway or entrance way:
Hallways and entrance ways are ideal spaces for smaller pieces of art. If you like to collect lots of smaller pieces, then grouping them together as a gallery wall in the hallway is a perfect place to display them.
Avoid natural light as it can cause pieces to fade and perish. Consider the medium of the artwork: is it a painting, photograph, sculpture, or multi-media installation? It is generally recommended to consider glazing both paintings and photographic work with a UV protective and anti reflective glass or Perspex. This will protect them from sun damage.
Measure the space that you want to fill, ideally you should aim to fill two thirds of the wall space. A larger size prevents the artwork from becoming lost on a large wall in a big room. Minimalists often prefer a single large piece of artwork. Maximalists may prefer several smaller pieces, triptychs (an artwork made up of three pieces or panels), or a gallery wall.
Large scale pieces should be hung at eye level. Lean pieces against walls, and if hanging them, then have it done by a professional - this really does make a big difference.
Art comes in many forms and can evoke emotional responses. It's an extension of the artist who created it and creates a connection with the person who has selected it for their home. Choose a piece that will make you happy whenever you see it.
Plain Tiger has a selection of art that will make it easy for you to identify the style that appeals to you and purchase a piece or 2 to adorn your home. From styles that celebrate nature like those by photographer Natascha van Niekerk and the mixed media creations by Okasie. To Cabo's prints of botanical and zoological illustrations from the 18th & 19th century, that have been digitally enhanced in true colour and the colourful bold limited edition prints by Andel Olivier. And of course Paper Blondie - a series of illustrations by artist Ané Snyman. Each piece is created with the combination of watercolour and digital design.
You're sure to find something that suits your style.
Shop these and others here.