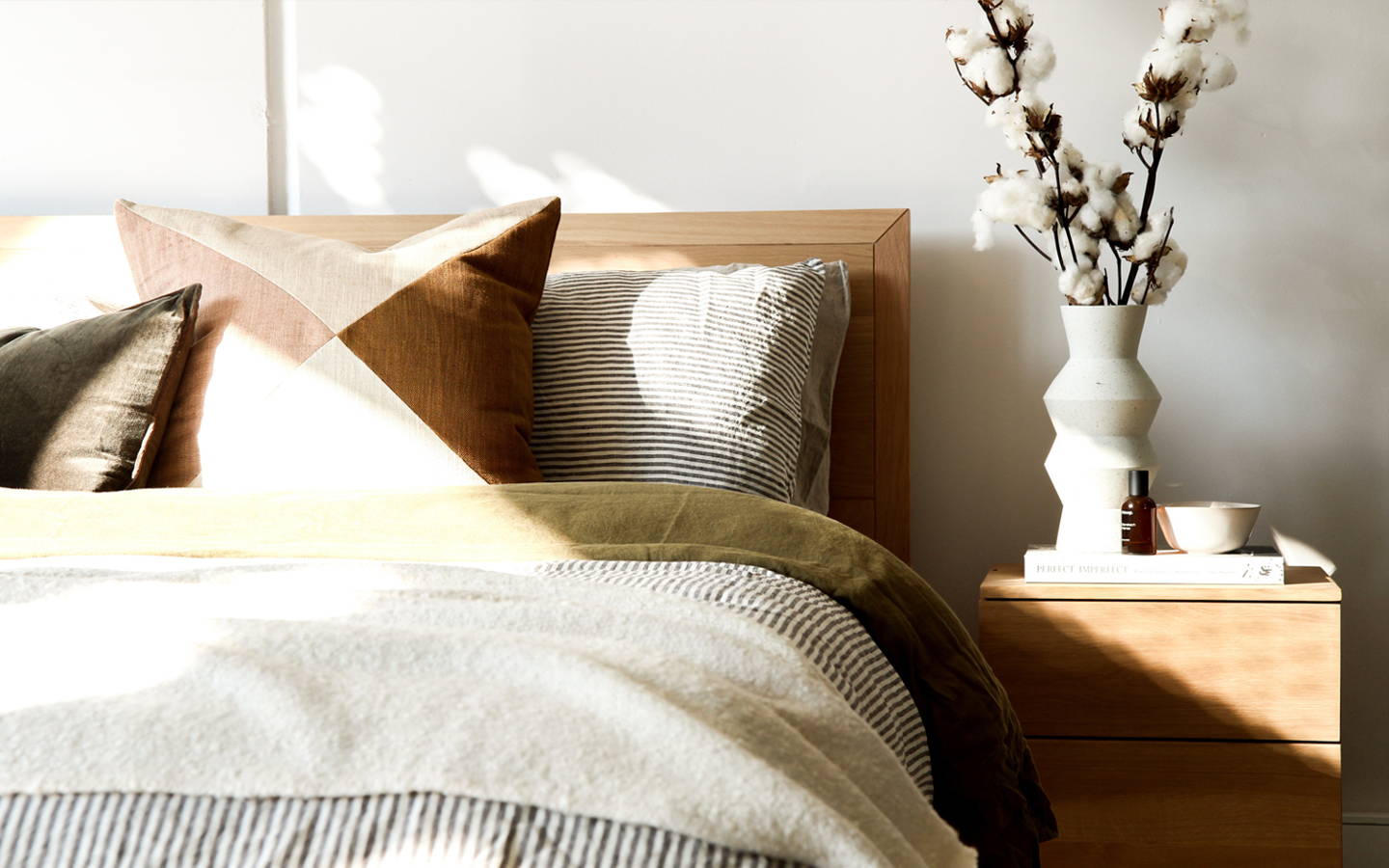 Product picks that tick all the right boxes
By Greer Krige, Commercial Editor of House & Leisure and homeware enthusiast.
As a mother to two tiny humans and three not-so-little fur babies, I make a point to look out for décor pieces that are low maintenance, durable, sustainable and locally sourced and of course, they also have to look good.
Here are my favourites right now:
Studio Isobel Sippel tablecloth - Autumn
A beautiful print on pure linen, titled Life's Abundance, captured in a collage. The Old Dutch Masters mostly inspired this design; it has grandeur but also a softness because of the fabric- an unassuming masterpiece of understated elegance. Woven from pure linen, it can be hand or machine washed on a gentle cycle- yes, please!
For my aforementioned fur babies! So often, I find dog beds are made up with cliché paw prints designs, so this is a welcome alternative. Pets need to be stylish too! The basket is handwoven from ilala palm leaves; the Bark Cloud Cushion is made from recycled PET plastic bottles with a removable and machine-washable cover and produced locally and with the environment in mind.
I'm a lover of linen - it's, without doubt, my all-time favourite textile. It's tactile, has an amazing yet variable handle. I love that these throws are lightweight, yet the fibre composition will keep you warm in winter and cool in summer – the colours are divine - my favourite being the forest green. These throws will work well in the bedroom, living room and on the patio, or even as a picnic blanket. Colour options are Forest Green on Natural, Teal on Natural, Linen on Red. The fabric is a blend of French linen and African Cotton, and the wide hem on both ends and selvedge on both sides gives a casually finished look, and they are, of course - washable!
Lebatho Sheets and Duvet cover by Phomolo Linen
100% Cotton Fitted sheet plus 2 standard pillowcases & 100% cotton duvet cover. One of my simple pleasures in life- a little thing that just makes me oh so happy, is to climb into a freshly made bed with crisp cotton sheets- the smell, the feel of the fabric on my skin- simply the best! And Phomolo's bed linen is top quality and locally produced.
I'm in love with this whole tumbler collection- the colour, the textures and the fact that you can mix and match the whole lot. They're ideal for hot or cold drinks, so whether you plan to sip coffee or partake in a new appreciation for wine from ceramic tumblers- yes, this is a new thing- moving away from glassware and back to how the ancient civilisations like the Romans enjoyed their tipples. There are 4 designs- outdented dots, indented dots, slanted lines and the plain pine forest glaze on black body available in 2 sizes 260 and 400ml.
Each one is simply delicious and has a way of transporting you through scent triggering nostalgia. I especially love the Clifton beach - balmy summertime memories – takes me right back there sundowners of my youth! An African Storm - those of you who are children of Africa – you'll recognise the scent - you can smell when a storm is coming and when the first raindrops hit the red earth. The steamy scent is such a familiar, comforting smell - can't be beaten, and this harks back to that - in a more sophisticated interpretation, of course. But why choose just one when you can scent different areas of the home or office with a variety. All ingredients are cruelty-free and completely biodegradable.