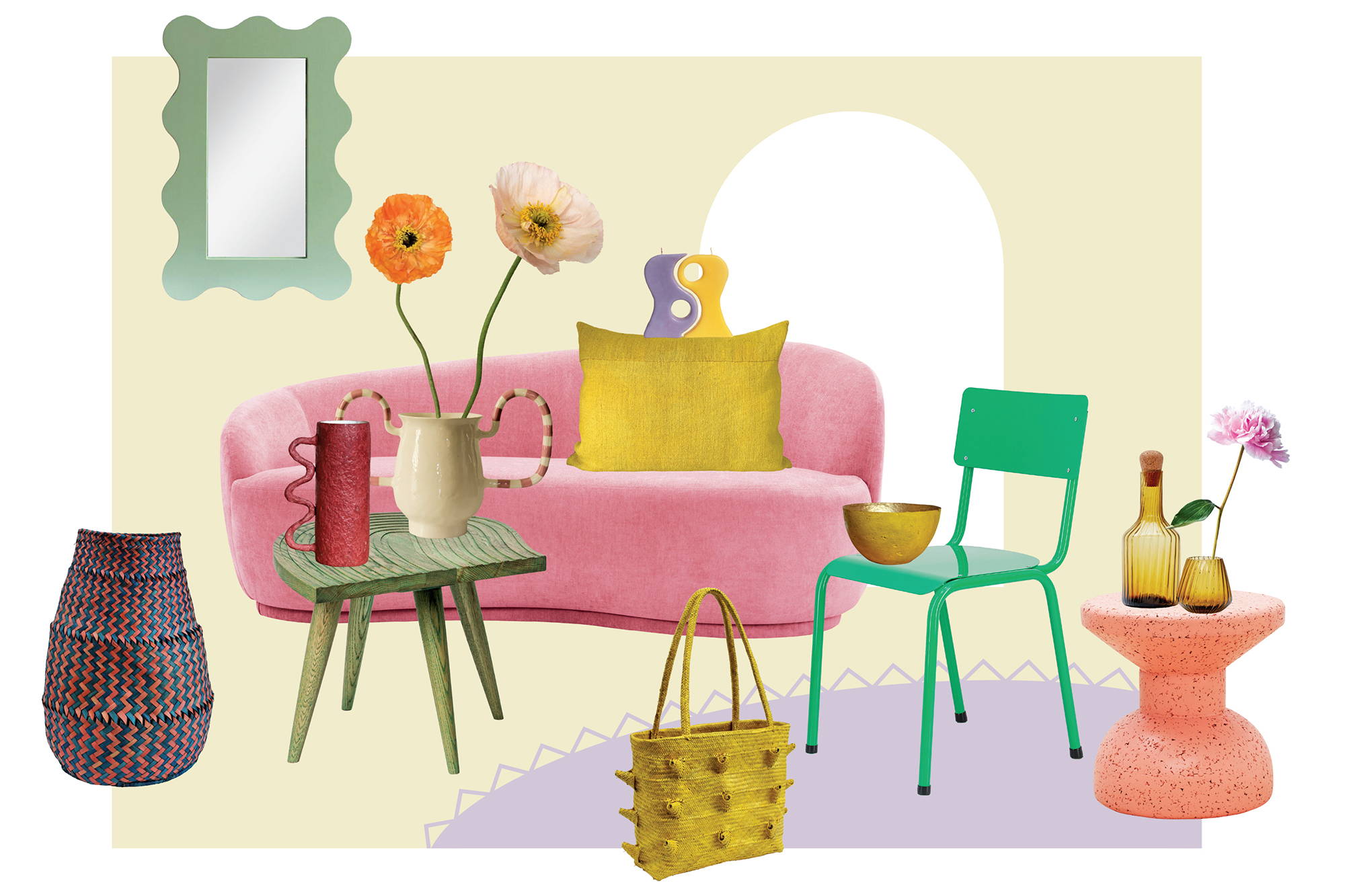 A Blooming Marvellous collaboration
When two brands with a shared vision align, the result is something quite spectacular.
In collaboration with Plain Tiger, House and Leisure have curated a limited-edition collection inspired by their spring issue (Vol 2: Bloom). This capsule collection includes a unique selection of local homeware pieces – a mash-up of energetic colours and out-of-the-ordinary shapes – personally picked by House and Leisure Style Editor Storm Ross.
The beautiful and eclectic Bloom collection aligns with the theme of House and Leisure (Vol 2: Bloom) – a celebration of spring and all the optimism and joy a new season brings. It's a visual feast of bold prints and patterns, kaleidoscopic colour, floral still lives and lush gardens. Most notably, it honours self-expression and encourages embracing one's personal style. Each item in the Bloom collection is locally designed and made, meeting the sustainability criteria upheld by Plain Tiger, champion of conscious consumerism and purveyor of fine things.
The Miyabi Daffodil chair
Unique, functional and super stylish, the retro design of this chair in bold pink, juicy orange or bright green adds a pop of colour to your indoor or outdoor space.
With no two items ever the same, these limited edition, hand-made artisanal pillows allow you to share in the delight of the artist's creations.
All Ulgi candles are hand sculpted, hand poured, and hand-finished. The scented Yin & Yang candles make a statement as a set or as individuals.
The award-winning furniture, lighting and accessories created by Mash T Design Studio celebrate African craft and uniquely South African stories. Founder Thabisa Mjo was inspired by the colour and texture of cow dung (daub), which was used to plaster walls from her childhood, to create the elegant and striking Daub oak side table.
Papier-mache bowls & vases
Quazi Designs pride themselves on their sustainable, ethically produced handmade items. By employing local craftswomen, they are making a social impact in Eswatini. Perfect for storing all your knick-knacks, the light yet durable paper pulp bowl is made from 100% waste newspaper, dyed with pigment, then painted gold and coated with a water-based varnish.
Inspired by the beautiful, organic and textural lines of the Oromo (Kemetic Africa) hairstyles in Jimma in the late 1800s, the bright yellow and blue Oromo pot makes the perfect accent piece. TheUrbanative is a multi-award-winning contemporary African furniture and product design company.
The Wiid Design studio is well-known for its innovative, high-end cork products with a focus on traditional handcrafting and cutting-edge techniques. The African cork stools, in green and pink, are crafted from recycled and organic cork.
Handmade by a group of Zulu artisans in KwaZulu-Natal, the AmaNiceNice is a contemporary basket using the traditional twilled weaving technique found throughout Africa and the world. The limited-edition bright colours are perfect for spring.
Sammy Dangereaux crafts hand-built ceramics that are 'wonky and sometimes a bit tongue-in-cheek'. The quirky pink and white handle vase is feminine and endearing and makes the ideal display piece, whether on its own or holding a bunch of blooms.
Through a collaboration with renowned Swaziland-based glass factory Ngwenya Glass, the elegant glassware in amber and clear is manufactured from 100% recycled glass.
The dynamic sister duo behind Via Wax create original, handmade and carefully crafted candles that celebrate our current nostalgic mood with a modern twist.
The dreamy mirrors by Mooi Mirrors come in pretty pastel shades and cute, curvy shapes. The soft buttery yellow and meadow green mirrors add the perfect spring touch to any space in your home.
Known for his eco-conscious creations, Heath Nash's iconic white leafball pendant is part of his Other People's Rubbish range, where he repurposes post-consumer waste into beautiful products. The statement-making pendant features hand-cut leaves and butterflies crafted from upcycled plastic bottles.
Established by illustrator Andel Olivier and Nomvula 'Julie Baby' Mxubane during the lockdown, Julie Baby Punch Club employs skilled local craftswomen to create colourful, textured creations to brighten up any room.
Talented local artist Andel Oliver, perfectly captures the essence of spring and womanhood in her vibrant artworks.