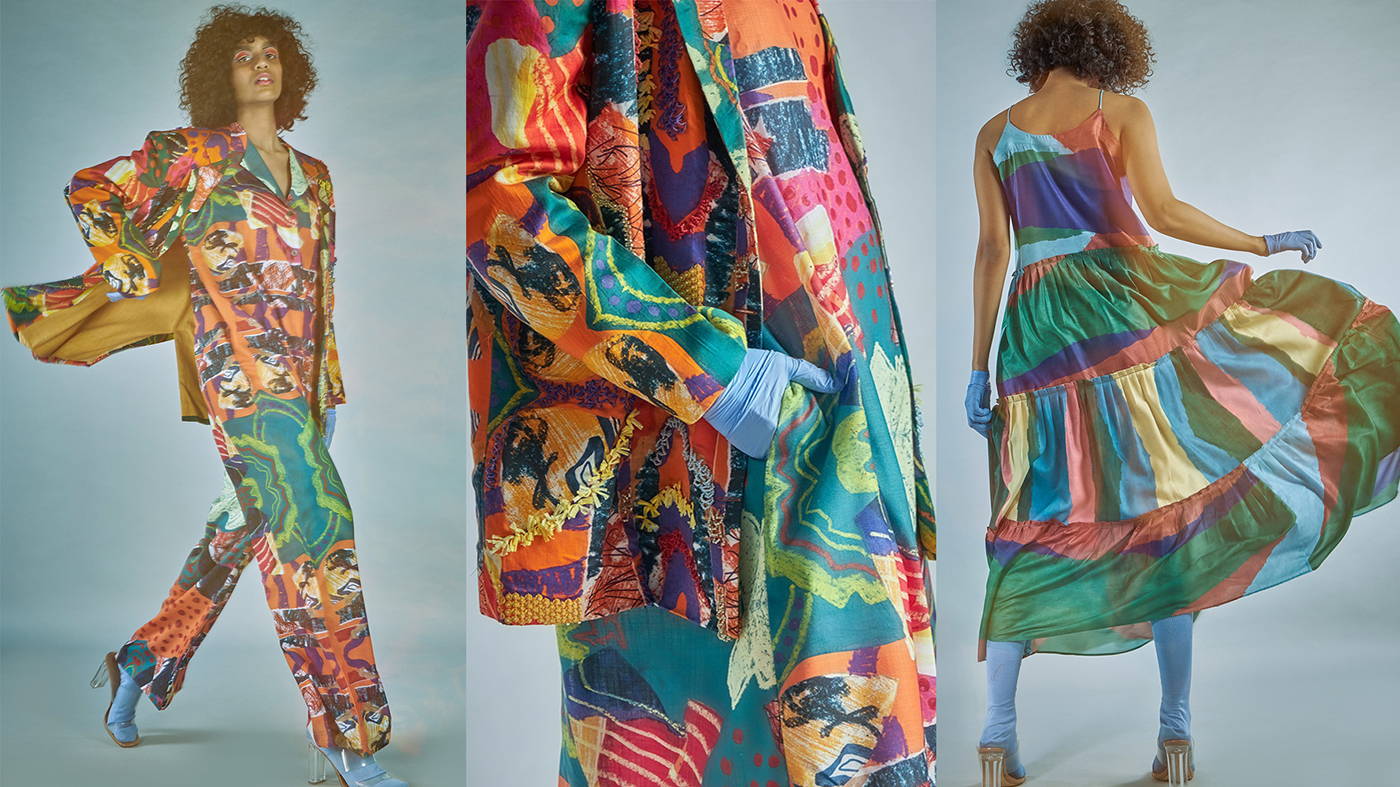 Get Graphic in This Season's Must-have Prints
Update your wardrobe with prints that make a statement
Written by: Danielle Viljoen
With lockdown a distant memory, trends have become more imaginative, edging away from athleisure silhouettes and monochromatic hues and moving towards femininity, bright colours and texture.
In current print and pattern trends, we are seeing an elevated use of colour with florals and graphic prints at the forefront. Pattern and colour evoke emotion by appealing to the senses. Warm colours can evoke different emotions to that of cooler hues.
1. Read Between the Lines
Stripes are so much more than the nautical strokes we have come to associate them with. A timeless pattern to invest in they resurface every year, whether it be in your dress or decor. Double up on co-ords or pair with subdued separates.

Doh Tak Keh was created by Juhi Melwani, in India, who gained notoriety after showcasing at India Fashion Week. The brand was intended to ignite conversations about sustainability through art. After exploring and intending to reinvent Avant-Garde in India, the brand was developed into a ready-to-wear line. The brand is dedicated and focused on sustainability. Biodegradable Lyocell, Satin Tencel, recycled industrial waste and 100% cotton are just a few of the materials they utilize.
Magnified polka dots are gaining popularity as opposed to the micro print we're used to. A maximized polka on muted hues gives your look a sense of whimsy without making the wearer appear clownish.
Graphic, digitally contrived, prints make a statement in their bold, exaggerated shapes. They usually appear in all-over prints in an explosion of colour. These types of motifs are most effective when layered with a pattern of a different nature. The below statement pieces are a work of art in themselves in expressive patterns and shapes.

Patchwork is a huge trend this season and is a true reflection of skilled craftsmanship. Made with upcycled mesh fabric and colourful vintage neckties. Laani Raani uses repurposed vintage fabrics in all of their designs making each item in their collection a one-of-a-kind masterpiece. Partial credit can be given to lockdown for the revival of patchwork. Brands such as Preen and Marni embraced the trend by upcycling deadstock from previous seasons.
Walter Battiss was a South African artist and the creator of Fook Island, an adult's imaginary escape from reality. Fook island featured abstract works from Batiss' travels to islands such as Seychelles, Madagascar and Zanzibar, to name a few. These works were a reflection of the experiences he had and the things he saw. His works even featured passports, identity books, maps and postage stamps. The Walter Battiss Company has reimagined his works into wearable items. Each scarf from the Walter Battiss collection is made from 100% modal cashmere.
In true 70's fashion, Retro blooms have made a return. Blown up and exaggerated and placed on contrasting hues. Retro florals are a symbol of post-pandemic cheer.
If you're not into bold brights, opt for a muted 'daisy' floral print with a watercolour feel on 100% cotton poplin.