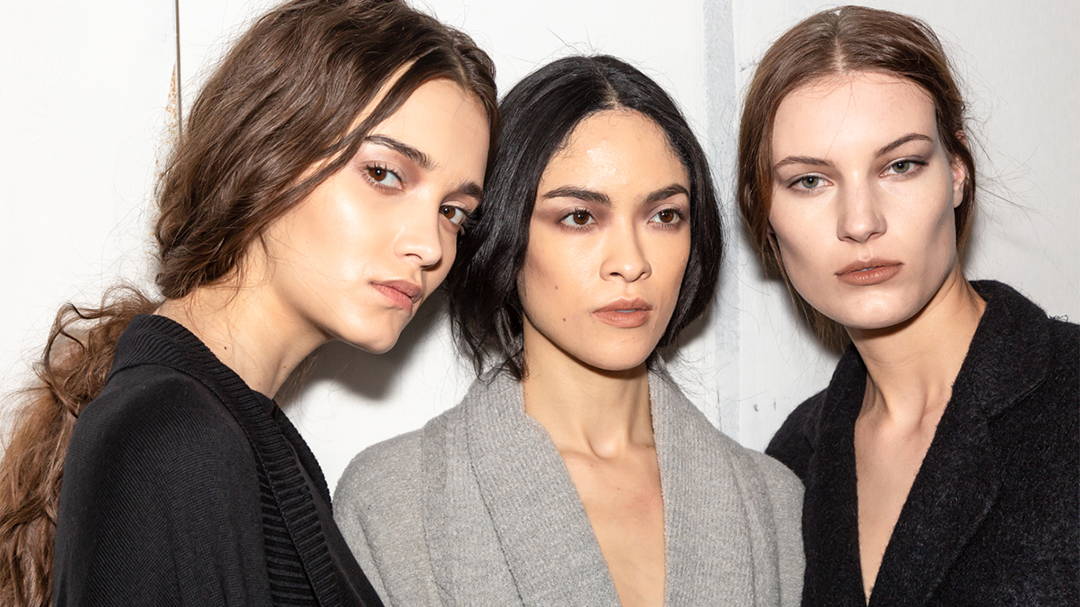 AW22: The beauty trends for Europe
beauty breakdown of AW22 from London, Milan & Paris
Fashion month is finally over, it's been such a treat having the first real, in-person, fashion weeks in two long years. Despite it being during some very challenging times for Europe and the rest of the world, for many of us in the industry it's a welcome step towards normality or should I say, our new normal.

Let's dive into the beauty trends for Paris, Milan & London.

1. B.B.L - Big Black Liner
it was a season of liners, bold, sharp and black liner. I think it always makes a woman feel powerful to wear a liner and it's a time of taking back our power. This season's liners are everything from the super-straight double liner we saw at Roksanda to the thick winged liners we saw at Versace. This hearkens back to what we picked up on last month in New York too.

Colour isn't immediately what you think of when you're thinking of AW beauty but I think we are in need of an energy boost and some colour therapy this season. We saw a plethora of colour this season in every shape, texture and placement but always on the eye. From the hot pink winged eyes at Valentino to the colour stamps at Shiatzy Chen it's a really fun trend and you can play it in so many ways.

This trend also links up with NY although we saw it more focused on hair there. For the face we saw everything from stud like appliques that mimic piercings (Givenchy & Balmain) jewel encrusted eyes (Simone Rocha & Kevin Germanier) to iridescent/metallic liner appliques (Giambatista Valli & KWK).

There will always be some iteration of this as a trend every season. This season, just like we saw in New York, the focus is on multiple features, all wrapped in soft ochres, tans and caramels. My favourite examples are Louis Vuiton, Missoni & Fendi.

Think purity and angelic vibes. White & silver washes on eyes and lashes showed up unexpectedly on the runways. From the silver inner eyes at Dior to full swatches of white at Johji Yamamoto and silver & sparkly winged eyes at Halpern. This is a really easy trend that anyone can wear.

This is a massive trend and although it may not be the most wearable trend, it definitely has a way of making the face a completely blank canvas, like we saw at Richard Quinn but also is a great way of pulling focus to other features such as a liner or black rimmed eyes as seen at Preen by Thornton Bregazzi.

Let's have a look at what happened with hair…
This is perhaps the biggest hair trend of the season and has carried through from both Copenhagen and New York. Now that we have more shows to look at, we notice it's split into two key categories which are Slicked (straight back, middle or side parted, loosed & tied) we saw this at Monoto, Giambattista Valli & Maison Margiela or Weathered - think you've just walked in from a blizzard, wet hair in the face and super messy, it's a major vibe! Fendi, Dsquared & Johji Yamamoto were just a few designers that favoured this iteration of the look. I feel this will possibly inspire editorials more so than real life wear, but I'm sure a few die hard fashionistas will be up for it. At any rate, bust out the wet look hair gel and get creative!

This is the second biggest hair trend for the season and is definitely a much more wearable trend. Hair is sleek and straight, either pulled back into a low pony or bun or even loose but without the wet look product element. It dominated many runway shows and has a very unfussy but elegant feel. Have a look at Balmain, YSL & Prada for inspo.

messy upstyles have long been the go-to look for cool girls. It gives a super chic yet effortless look and works with evening frocks and ripped jeans alike. We saw beautiful examples at Elie Saab, Preen by Thornton Bregazzi and Alberta Ferretti.

This was a wonderfully unexpected trend for AW but ties in with the pop culture resurgence of the early 2000's Pop Punk Era. Think gelled up spikes and a bad attitude. Have a look at Tokyo James, Mark Fast & Feng Chen Wang for epic inspiration.

Sign up to our newsletter
Stay up to date with the latest in sustainable luxury for the home, your style and your beauty regime.